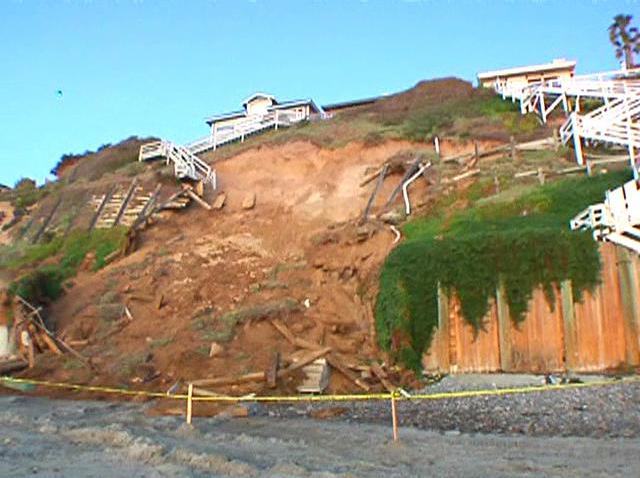 A bluff collapsed in Encinitas taking the stairs leading to the beach with it.

The collapse happened around 3.30 p.m. near the 1500 block of Neptune Ave.

Witnesses told lifeguards that they did not believe anyone was below the bluff when it collapsed. There were no reports of any injuries.

Several houses rest at the top of the bluff, but it wasn't yet clear if there was any concern about the safety of those homes.
Some residents say, recently, the bluff looked noticeably unstable.
"We came down here a few weeks ago. We saw all the debris. It was just a matter of time before this was going to fall," said Encinitas resident Jim Pepperdine.
In December, another bluff collapse happened along the same block of Neptune Avenue. In that collapse, the homeowner will need to ask the state's Coastal Commission for permission to fix the bluff that threatens her home at Grandview and Neptune.
Barbara Lynch says she has been trying for a decade to get approval from the Coastal Commission to build something to better restrain the bluff from collapsing.
Even though, erosion is pretty common in this area, officials say the heavy rains we had last month, probably played a part in the collapse.
Encinitas city engineer Greg Shields said these collapses have been happening as long as the bluffs have been there but that the December storms are part of the reason for recent slides.
"Once the rains have stopped then the water that's in those soils start to evaporate and things start to move a little bit," said Shields. "It loses its cohesion and you start sliding."
Shields said the city will work with firefighters to evaluate the damage done by the collapse.