A first-of-its-kind center geared to helping some of the 84,000 San Diegans with Alzheimer's Disease regain their most cherished memories has opened in the South Bay.
Glenner Town Square was designed to look like a snapshot in time of a small town in the 1950s. Each replica storefront within the Chula Vista facility is accompanied by a structured activity designed to help patients reminisce and keep active.
It's called reminiscence therapy and researchers believe this blast from the past can help those with dementia regain some of their memories while providing support to those who care for them.
"The music, the artwork, the signs, the newspapers, the magazines all take people back to a time when their memories are strongest so they'll remember when they were in the 20s and 30s," said Glenner Alzheimer's Family Center Chief Marketing Officer Lisa Tyburski.
Patients can enjoy a meal at Rosie's Diner while listening to Elvis Presley hits from the 1950s. Or, stop by Geiger's Garage to tinker with a classic Ford Thunderbird.
"It starts like a cascading of memories," the center's CEO Scott Tarde said. "When they take in and they see the T-bird there's a connection to the T-bird and that starts a dialogue and a conversation. People naturally reminisce."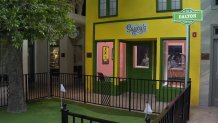 The center is the brainchild of Dr. George Glenner, an Alzheimer's researcher at the UC San Diego School of Medicine, and his wife, Joy, who heard the concerns of loved ones who struggled to provide care to those with dementia.
Several San Diego businesses and organizations collaborated to bring the center to life, including the San Diego Air and Space Museum, The San Diego Opera and the Chuck Jones Gallery, who donated the artwork seen on the center's walls.
Everything inside the museum was carefully curated by the San Diego Air and Space Museum to provide an experience for visitors.
"We want them to have a sense of purpose when they come here," Tarde said. "A lot of those interactions are cut off to them in their normal lives."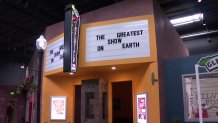 Trade has plans to expand the center across the country, hoping to spread the town square concept to 200 locations nationwide, according to a report from The Today Show.
Glenner Town Square is located at 2765 Main St. in Chula Vista. For more information, visit here.