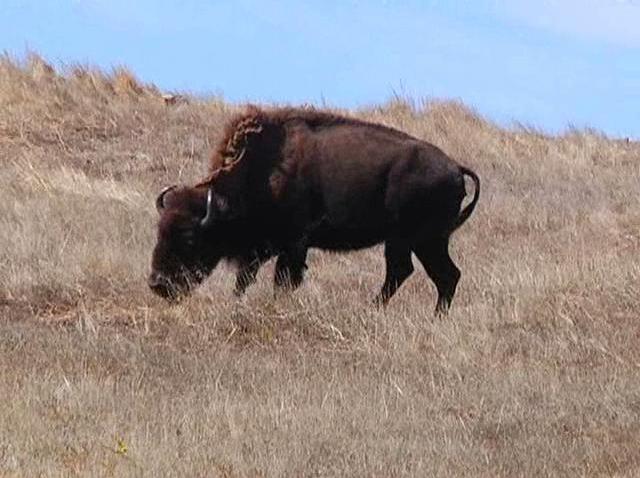 Normal 0 Things you can expect to find on a United States Marine Base: Tanks, check. Heavy weapons, check. Bison, check. Wait a minute, Bison? Yes. The burly creatures that instantly conjure up images of the Wild West, have a found a modern day home on Camp Pendleton.
Their favorite hang spots aren't for the faint of heart. They are at home at the gunnery ranges where Marines conduct live weapons training exercises. Talk about living on the edge.
"It sure has made for a neat situation here that we have these charasmatic creatures roaming the base," said base game warden Jim Asthmus.
The San Diego Zoo donated 14 bison to the base in the 1970's. Rugged backcountry terrain offers an ideal environment.
"This is what they want. they want the grass, see they're out there eating the grass and they're going to get shade under the oaks," said Asthmus as we watched a female bison and her calf grazing on a distant hill.
A headcount done earlier this year puts the herd at 116, down from 147 last year. Asthmus offered a few theories for the decline.
"Either we over counted last year, or we undercounted this year and missed some that we just didn't find. And there is a third possibility that there is a decline in the population that I tend to doubt," he said.
The size of the herd increases about eight percent each year. The Marines have taken a mostly hands off approach towards managing the herd. The bison pretty much keep to themselves but they have been known to wander into some tricky situations.
"You know the trainers are trying to shoot and we don't want to hurt the bison so we'll chase them out of the way." Said Asthmus. He and his team are also called in to treat sick and wounded bison.
Those factors have Marine brass trying to decide what is best for the herd's future. Moving the entire herd off the base or allowing limited hunting are among the options being considered.