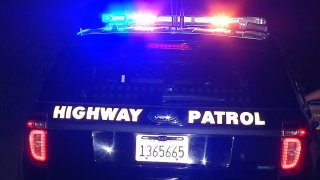 A vehicle struck and killed a bicyclist Tuesday on a rural highway in northern San Diego County.
The victim died at the scene of the collision, which occurred about 10:15 a.m. on eastbound State Route 76, west of North River Road in Bonsall, according to the California Highway Patrol.
CHP investigators say the victim, a 56-year-old man from Oceanside, was pedaling eastbound on the highway when a big rig drove into the bike lane and hit the cyclist from behind.
The driver of the big rig, a 57-year-old from Santa Fe Springs, California, was arrested on suspicion of driving under the influence of a drug. 
One lane on the highway was blocked in the area until around 2 p.m., the CHP said.
A man also died on Monday while riding a bike in Santee. In both cases, the driver stayed at the scene.