The Old Globe's world premiere musical "Benny & Joon" has been in the works for nearly six years now, and it all started with a list of possibilities from a producer.
Critically acclaimed composer and pianist Nolan Gasser was at a concert six years ago when an MGM Stage representative approached him. He asked Gasser if he would be interested in turning a movie into a musical.
[[444260453,C]]
"There's some irony because I'm like the least experienced person in Broadway I think on the whole team," Gasser said.
On that list of 150 or so MGM movies, Gasser stumbled upon "Benny & Joon," a movie he'd seen a while back but had forgotten about.
The cult classic romantic comedy tells the story of an eccentric sister (Joon, played on stage by Hannah Elless) and her brother and sole caretaker, Benny (played on stage by Andrew Samonsky). Benny has set up a predictable and safe life for his sister until Sam (Bryce Pinkham portrays him on stage) comes in and turns life upside down.
[G] Photos: A First Look at The Old Globe's 'Benny u0026 Joon'
Picking "Benny & Joon," Gasser said, was in some ways an obvious choice. It had a unique relationship between a brother and sister, something not seen often in theater, tackled serious issues and yet was still a fun movie.
"One of the things that drew me so much to it is the fact that there is this brother and sister and there is conflict there," Gasser explained.
"To put a spotlight on that relationship, and some of the most touching moments are that dynamic -- it's something that most of us have experience with," Gasser added.
Through a mutual friend, Gasser met Mindi Dickstein ("Little Women," "Toy Story: The Musical"), and together the pair wrote four songs (two of which are still in the show today) and presented them to MGM.
Once they got the green light, they began looking for a full team, and on came Kirsten Guenther ("Mrs. Sharp," "Out of My Head"), who wrote the book.
The new musical had its first reading four years ago. At the National Alliance for Musical Theatre, a contact saw a shortened presentation of "Benny & Joon" and passed it along to The Old Globe's Barry Edelstein.
It's at that reading that Gasser, Dickstein and Guenther found their perfect Benny: Samonsky.
"He just embodies the qualities of Benny that I think are necessary, which are that he's kind of a brick, as a person, and even when he's not saying anything, he's speaking volumes," Dickstein said. "He sings the songs beautifully."

He felt a strong connection to the work right away, Samonsky said.
[G]Photos: The Cast and Creators of The Old Globe's Benny u0026 Joon
"I thought it was just fantastic, and I've had my fingers crossed ever since that we would do a full production," he said.
"I've been in some good shows, and I've been in some not-so-good shows," Samonsky added. "So when you find a good one, they don't come around very often, and you go, 'Oh I'd like to stick with this one.'"
Many characters in the story, especially Benny, feel stuck throughout the play, Gasser said.
"I think we can all relate to things that we do that we know aren't necessarily the best for us, yet they're the most comfortable for us," Samonsky said.
The character Samonsky plays on stage has stepped up to take care of his sister, who has schizophrenia. In creating a comfortable and stable routine, he has neglected himself and neglected what may be best for his sister.
"It's this long journey of him discovering what maybe he really needs, what his sister really needs, and so in comes this odd little character into town, of Sam, and forces them out of their routine and forces them to look at things with a different perspective," Samonsky said.
The bond between brother and sister is a strong one in this story, Samonsky said. Yet, the family is a little dysfunctional - something some audience members may be able to relate to.
And at the heart of the story, amid that discontent, Dickstein said, is that each character is just an arm's reach away from their ideal life.
"The thing is, that's what I think this story captures more than anything, that being poised on having everything you ever wanted, but also crashing and burning a lot in the process, but still getting back up and reaching," she said. "I love that about the show and I've tried to capture that through the lyrics all through the show."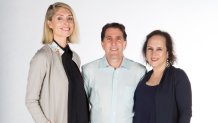 Fans of the movie will find lots to love in the world premiere production. The musical has changed since it had its first reading four years ago, and the creators have had to expand on certain characters and moments in the movie.
Take the character of Sam, for example, Dickstein said. In the movie, the character, played by Johnny Depp, has a lot of physical comedy and close-ups -- but not as much dialogue.
"There's a lot of moments in the musical where you'll see him acting out little dances, tricks with his hat, and things like that, just like in the movie," Dickstein said. "But like all the characters, because it's not a movie, you translate movie close ups into words and thoughts, and the close up becomes a language thing and not a visual thing."
Certain memorable moments will find a new interpretation on stage, Gasser said, and some songs have dialogue similar to the movie.
"We want to honor those iconic moments: swinging outside of June's window, doing tricks with the hat, grilled cheese, all that kind of quirky stuff, and what happens with Benny and Joon with their parents," Gasser said. "But there's a lot of things that we do that the film doesn't touch, including about June's condition."
And when audiences leave the theater after each performance, Dickstein, Gasser and Samonsky hope they connect to the characters and story in the way they have.
"I hope they connect to the characters and the story and see themselves in the story and understand that everybody is in that place of being just this close to what they want, and maybe getting it for a moment, before it's gone," Dickstein said.

"Benny & Joon" runs at The Old Globe's Donald and Darlene Shiley Stage through Oct. 22. To buy tickets, click here.