A wandering bear was on the move for about an hour Wednesday morning north of Los Angeles with squad cars and a helicopter on its tail as it scaled fences and surprised several horses in their corrals.
The bear was first seen in the Shadow Hills area, about 20 miles north of downtown Los Angeles.
"He was probably just trying to find a spot where he feels comfortable, safe and can find a food source," said California Fish and Wildlife Department warden J.C. Healy. "This is the time of year -- there are bigger males looking for food, and in the animal world, they're going to compete and push the little guy out."
The black bear surprised two horses as it emerged from a backyard, then walked through another corral that contained three horses a few blocks away. The bear scaled a fence around the second corral and walked along the top of it until leaping back to the ground and trotting under a tree.
Police in squad cars and an airship followed the bear, which was first spotted along Clybourn Avenue at about 6:30 a.m.
"We deploy officers like we look for suspects," said LAPD Sgt. Rudy Lopez.
Officers and at least one California Department of Fish and Wildlife agent -- armed with a tranquilizer dart gun -- cornered the bear under trees along Wentworth Street. Aerial video showed agents loading the tranquilized bear into the bed of a pickup.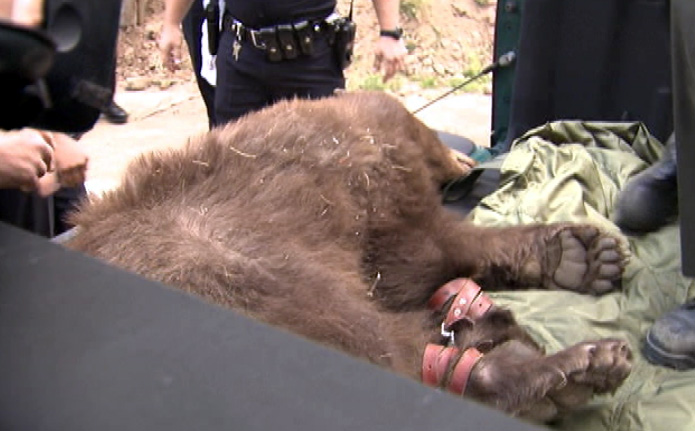 "The California black bear is very docile, very timid, very afraid of people -- so they're going to do what they can to get away from people," said Healy. "But the general rule of thumb with wild animals is don't take their food source and don't get in front of mom and her cubs.

"Right now, he's just looking to get away from people."
The bear had a tracking tag attached to its right ear, indicating that wildlife officials were in contact before with the bear. The bear was tagged just a few weeks ago in a Santa Clarita neighborhood, about 20 miles northwest of Shadow Hills, Healy said.
The warden planned to transport the bear to a wildlife area, likely the nearby Angeles National Forest. The bear was sedated about four minutes after he was struck with the tranquilizer dart.
"I'm going to sit with him for a while until he wakes up and watch him walk off," Healy said after hoisting the bear into the pickup.
Healy estimated the 2- to 3-year-old male bear weighs about 150 pounds