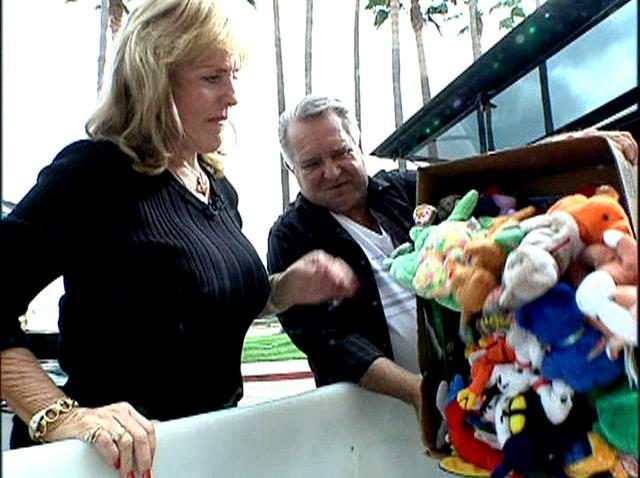 In the late 90's, collecting Beanie Babies was all the rage. San Diegans Bob and Faye Kish couldn't get enough of them.
It wasn't unusual for Bob to wake up at 2 a.m. for a chance to get one of the colorful stuffed toys. He'd often fly to Chicago to get limited edition Beanies.
In 11 years of collecting, the Kishes estimated they gathered up to 1800 of the small colorful stuffed toys at a cost aproaching $20,000. In fact, they had so many, they stored the Beanies in a hangar at Montgomery Field.
"I was so attached, they were like my kids," said Faye Kish. "I was probably crazy, my kids were grown. This is what made me happy."
Bob Kish figured some day they'd be worth a lot of money.
"This was going to be a big investment for our kids for college. But after time passed, we realized they're not really worth that much anymore," he said.
When the couple gave up their hangar space at the airport, all of the Beanie Babies were brought to the Kish home in Rancho Penasquitos. Boxes and boxes, stacked high - in the house, on the jacuzzi, everywhere. It began to get more than a bit cluttered and a decision had to be made on what to do with all of them.
"We just decided it was time to let them go," said Bob Kish.
But what to do with all of the Beanies. Bob said he had a neighbor with a contact at Children's Hospital. That's when they came up with the idea to donate all of them to the hospital. But it wasn't as easy as Faye would have liked. She had grown so attached to them.
"I took them out of the bags, talked to all of them. I told them have a good home, hope somebody enjoys them," she said.
Faye Kish even shed a few tears as she recounted the stories of individual beanies.
The couple loaded up a dozen boxes and packed them in their pickup truck. They were turned over to Children's Hospital on Friday.
The Kish home is much emptier now, but the couple did hold on to at least one. It's a likeness of an Orca Whale that was given away at a Padres game in 1998 - a special commemorative Tony Gwynn Beanie Baby.