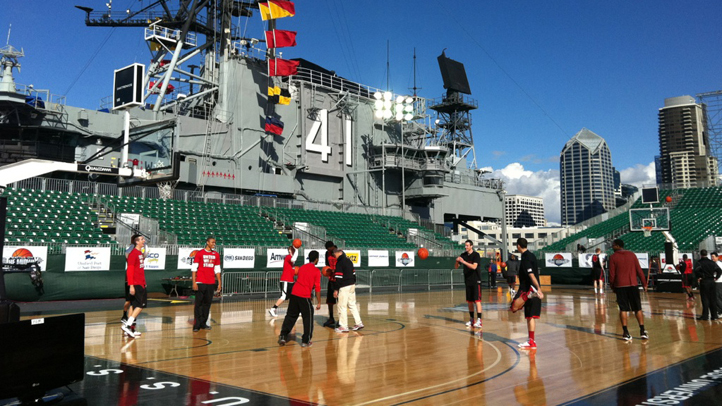 Officials have rescheduled the Battle of the Midway from Friday to Sunday because of possible rain.
The game will now begin at 1 p.m. on Sunday, Nov. 11 where San Diego State University's men's basketball team will face off against Syracuse University.
"Everybody that knows anything has put their heads together and says this is probably appropriate and gives us almost a hundred percent certainty that there won't be weather issues," said SDSU basketball coach Steve Fisher. "So it has been moved."
The Aztecs were originally scheduled to play against San Diego Christian on Sunday, but that game has also been moved, said Fisher.
When asked why the teams just switch venues for Friday, Fisher said playing on the ship is very important to both schools.
"The purpose of the game is to play it on the Midway," he said. "So that's what we want to almost guarantee that we can have happen."
Tickets for the game are still available and cost upwards of $1,000 per ticket.