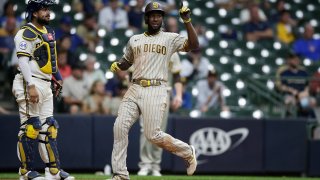 It took five games, but the San Diego Padres finally got their first victory against the Milwaukee Brewers in the 2021 Major League Baseball season.
After dropping the first four games against the Brewers this season, the Padres beat the Brewers 7-1 Tuesday in Milwaukee.
Milwaukee swept a three-game series in San Diego in April, then kept their mastery of the Padres going with a win Monday night.
However, starting pitcher Joe Musgrove got the Padres going on the path to victory Tuesday night with 4.2 shutout innings, before giving way to the bullpen.
The Padres offense supported their pitching staff with a steady offensive output throughout the game. San Diego scored two runs in the 3rd inning, two more in the 6th, two more in the 7th and one more in the 8th.
The Padres did it all with small ball. They hit no home runs and tallied just five hits in total, but smart baserunning (including 6 stolen bases) and a disciplined approach at the plate translated to a nice offensive showing.
With the win the Padres improved their season record to 31-18, still the best in MLB.
The Padres and Brewers continue their four-game series tomorrow in Milwaukee, Chris Paddack gets the start for San Diego.