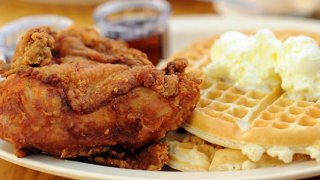 Foodies, today is your day: After months of rumors, Eater San Diego has now confirmed that Roscoe's House of Chicken and Waffles is, in fact, soon opening a location in San Diego.
In February, speculation circulated that the soul food eatery with a cult following was looking for a space to expand in San Diego – somewhere that was accessible and had plenty of parking.
On Tuesday, Adolfo Moreno of Terra Nova Realty confirmed the scoop to Eater San Diego, announcing that Roscoe's House of Chicken and Waffles will open in Barrio Logan.
Roscoe's will be located at 1678 National Ave. According to Eater, the restaurant could open its doors by late this year.
Roscoe's menu is known for its fried chicken and waffle dishes, including one named after President Obama, which includes one waffle, three pieces of chicken and a side of syrup. The eatery has a fervent fan base, and has been known to attract famous diners, including actors and the POTUS himself. Roscoe's also churns out a variety of homestyle, Southern sides, including cornbread, grits and collard greens.
The restaurant chain was first founded in 1975 in Long Beach, California, by Harlem native Herb Hudson.