A man wanted for robbing two banks struck again on the same day the FBI sent out an alert offering a $5,000 reward for his arrest.
On Oct. 16, agents released images tied to two robberies in the San Diego area.
The images showed a man described as 50 to 60 years old, 6-feet, 2-inches tall, with dark gray hair and an athletic build.
In both incidents, he wore a hat and sunglasses.
At 3:40 p.m. that day, a man walked into the Wells Fargo on Palomar Airport Road in Carlsbad. Again, he was wearing a hat and sunglasses.
The previous robberies involving the same suspect occurred on September 11 at the Wells Fargo Bank at 5522 Balboa Avenue and on October 6 at the Wells Fargo Bank at 276 N. El Camino Real in Encinitas.
The same man is believed to be responsible for both incidents, according to the FBI.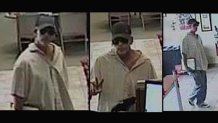 In the robberies, he presented a note demanding money from the bank teller in a similar manner, agents said.
After receiving money, he left on foot.
However, in the Carlsbad robbery, he left in a black sedan, possibly a Nissan Sentra without plates, the FBI said.
Anyone with information on these robberies can call San Diego FBI at 858-320-1800 or San Diego Crime Stoppers at (888) 580-8477.