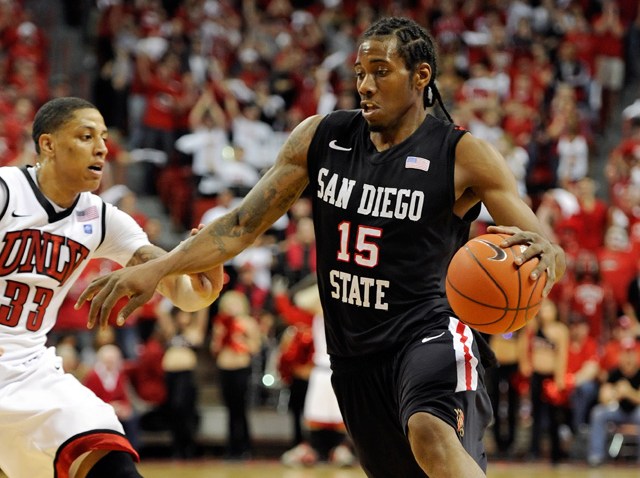 The storied rise of Kawhi Leonard's draft stock in recent weeks may now have its greatest barometer.
In Sports Illustrated's first mock draft Wednesday morning, columnist Sam Amick pegged the versatile Aztecs forward to go ninth overall in next month's NBA draft to the Charlotte Bobcats, and that spot is considered a conservative outcome.
What was once a clamoring chorus of skeptics regarding Leonard's shooting ability -- he shot a solid 44.4 percent from the floor his sophomore year but a wincing 29.1 percent from three-point range -- is quieting to a hushed baritone.
ESPN NBA Insider Chad Ford may be the movement's maestro.
On May 10, Ford reported Leonard was "really, really impressive" shooting the ball at Las Vegas workouts.
"He's really working on that shot," Ford said on Twitter. "If he keeps shooting like today, Top 5 pick."
Leonard kept hitting the next day to leave a lasting impression.
On May 12, Ford wrote of the five things he learned in Las Vegas, No. 1 was Leonard's place as a "big-time prospect":
A few weeks ago, one GM told me he thought Leonard was, at best, a role player at the next level.

I respectfully disagree, as do a handful of NBA execs and scouts. I was blown away by Leonard at the workouts. Not only is his physical profile impressive (huge hands, long wing span, NBA body), but also he's much more skilled than your typical high-energy forward.
For good measure, Ford again sung Leonard's praises on Twitter on Tuesday, saying if he were the Cleveland Cavaliers, he would give Leonard a "serious look" at No. 4 overall, calling the 19-year-old from Riverside a "good fit."
Weeks ago, Leonard as a No. 9 pick was pie in the sky.
It could now be the floor.