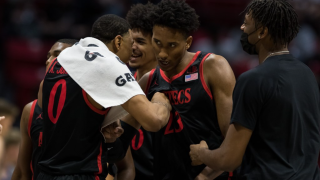 San Diego State and Fresno State are both tremendous defensive teams. So, seeing the Aztecs shoot the ball like they did on Saturday night in the Central Valley is incredibly encouraging.
SDSU hit 48% of their shots and a stellar 45% from 3-point range, both well above their season averages, in a 61-44 win. It was an impressive road performance, running their winning streak to five games, and the folks in charge of what's commonly referred to as "bracketology" have taken notice.
In the NET Rankings, a tool used by the NCAA that takes into account things like strength of schedule, home or away games, scoring margin, and a slew of other factors, the Aztecs jumped up from 42nd to 34th place, a good spot to be for an at-large tourney berth.
In the KenPom rankings, another analytical website that has pull on the tournament selection committee, the Aztecs moved up to 23rd in the nation. At the start of the week, noted bracketologist Jerry Palm had the Aztecs just missing the field of 68. On Sunday morning he had them as an 11th-seed and opening the tournament against LSU in the West Region with first round games in Milwaukee.
So, the numbers say the Aztecs are in a great spot to still take part in March Madness if they don't earn the automatic berth that goes to the Mountain West Conference Tournament champion.
On Tuesday they can pad their resumes even more. The Aztecs head to Boise State, who are 32nd in the NET and 26th according to KenPom. A win there could mean that even if the Aztecs lose at 22nd-ranked Wyoming at the end of February they would still get into the NCAA Tournament.
Of course, winning out then taking the MWC tourney would still be the best course of action and with the way SDSU is shooting the ball right now it's entirely possible.