Police have found the red car involved in an earlier police pursuit that lead officers across multiple San Diego freeways, but the suspect is still at-large.
The pursuit began at approximately 5 p.m. Thursday near Caminito East Bluff and Via Sonoma when officers were conducting a "check the welfare" call, San Diego Police (SDPD) officers said.
According to police, the suspect was initially thought to be a parolee at large, but they are not clear whether he is a parolee.
The driver of the red car refused to pull over and was weaving in and out of rush-hour traffic, driving at high speeds.
The pursuit went from La Jolla up to several North County freeways before the driver turned around and headed to Downtown San Diego, where the driver pulled into a parking garage at 9th Street and F Street. Police found the car, but not the suspect.
Police began searching the area on foot for the suspect.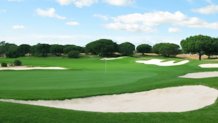 SDPD says the driver was going at reckless speeds and they called off ground units due to safety concerns. SDPD's Helicopter continued the pursuit until the suspect turned into a garage.
No other information was immediately available.
Check back for updates on this breaking news story.