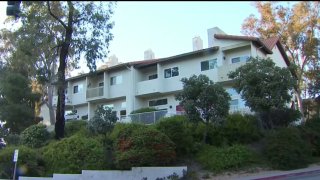 Authorities Thursday publicly identified an infant who died last week after being found at a University City townhouse suffering from grievous injuries allegedly inflicted by her father.
Patrol officers responding to a report of a baby who had stopped breathing found 7-week-old Genevieve Santillanes in medical distress at the residence in the 3700 block of La Jolla Village Drive shortly after 10 p.m. March 18, according to the San Diego Police Department.
Paramedics took her to Rady Children's Hospital, where she died March 21.
The girl's father, 37-year-old Jaime Santillanes of San Diego, was arrested the next day on suspicion of causing her death.
"During the preliminary investigation, it was determined the infant had sustained serious traumatic internal injuries that were indicative of physical child abuse," SDPD Lt. Steve Shebloski said.
After interviewing witnesses, analyzing evidence and conferring with medical personnel trained in recognizing child abuse-related trauma, detectives determined that the baby's death appeared to be "a tragic (case) where (her) father inflicted the fatal injuries," the lieutenant said.
Santillanes pleaded not guilty this week to charges of murder and assault on a child causing death. He faces up to 25 years to life in state prison if convicted, according to prosecutors.
He is being held in county jail without bail pending a bail review hearing scheduled for next month.