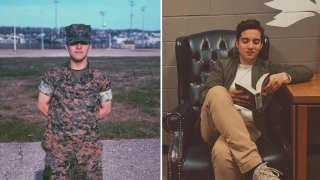 A U.S. Marine who was struck and killed by a box truck after he stopped to help another driver on southbound Interstate 5 was identified Tuesday.
Lance Cpl. Alberto Lucio, with the Security and Emergency Services Battalion, was struck near the base where he was stationed at about 3:30 a.m. Monday, California Highway Patrol said. The 20-year-old had stopped to help the driver of an SUV who had crashed into the center divider and rolled over on southbound I-5 near Las Pulgas Road.
Lucio, of Smithville, Tennessee, was critically injured and died despite the efforts of Camp Pendleton firefighters who responded to the scene.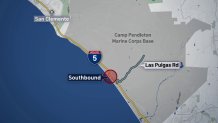 "Security and Emergency Services Battalion sends our deepest condolences and prayers to Lance Cpl. Lucio's family," said Col. John W. Black, commanding officer, Security and Emergency Services Battalion, MCB Camp Pendleton. "Lance Cpl. Lucio performed a noble and selfless act by stopping on Interstate 5 to provide critical aid to a person in need. Lance Cpl. Lucio gave his life in the service of others. His actions epitomized servant leadership and personified the very best in our emergency services personnel. Please honor Lance Cpl. Lucio's memory through your actions, words and deeds."
Lucio is a recipient of the National Defense Service Medal and the Global War on Terrorism Medal.
Inside the crashed vehicle was the driver, 36-year-old Darryl Sheffey, and a 31-year-old woman. The two SUV passengers were transported to Scripps Memorial Hospital in La Jolla with major injuries. Their current condition was not disclosed.
CHP said once Sheffey is released from the hospital, he would be booked into San Diego County Jail on multiple felony charges. The charges he would be facing were not disclosed.