United States Attorney General Jeff Sessions announced a zero-tolerance immigration policy Monday in San Diego and vowed that all caught crossing into the country illegally would be prosecuted, even if it leads to the separation of parents and their children.
Sessions said he wanted to send a message to the world that the U.S. would not be overwhelmed "by illegals stampeding our country."
"If you cross the border unlawfully, then we will prosecute you. It's that simple," Sessions told reporters at Border Field State Park backdropped by the fence that separates San Diego from Tijuana, Mexico.
He added that even those who claim political asylum will be prosecuted if they do not follow the proper procedure for entry.
The U.S. Department of Homeland Security said it would refer all arrests for illegal entry to federal prosecutors, throwing its weight behind Sessions' policy announced last month to vastly expand criminal prosecutions of people with few or no previous offenses. A conviction for illegal entry carries a maximum penalty of six months in custody for first-time crossers, though they usually do far less time, and two years for repeat offenses.
Nearly one of every four Border Patrol arrests on the Mexican border from October through April was someone who came in a family, meaning any large increase in prosecutions is likely to cause parents to be separated from their children while they face charges and do time in jail.
Children who are separated from their parents would be put under supervision of the U.S. Health and Human Services Department, Sessions said. The department's Office of Refugee Resettlement releases children traveling alone to family and places them in shelters.
"We don't want to separate families, but we don't want families to come to the border illegally and attempt to enter into this country improperly," Sessions said. "The parents are subject to prosecution while children may not be. So, if we do our duty and prosecute those cases, then children inevitably for a period of time might be in different conditions."
Thomas Homan, U.S. Immigration and Customs Enforcement's acting director, said there is no "blanket policy" to separate families as a way to deter others, echoing recent comments by Homeland Security Secretary Kirstjen Nielsen. But he said immigration authorities have long separated families if they have reason to doubt the relationship or if a parent is prosecuted.
"Every law enforcement agency in this country separates parents from children when they're arrested for a crime," Homan said alongside Sessions. "There is no new policy. This has always been the policy. Now, you will see more prosecutions because of the attorney general's commitment to zero tolerance."
Advocacy groups blasted the moves as cruel and heartless, especially in cases where the family is seeking asylum in the United States.
"Criminalizing and stigmatizing parents who are only trying to keep their children from harm and give them a safe upbringing will cause untold damage to thousands of traumatized families who have already given up everything to flee terrible circumstances in their home countries," said Erika Guevara-Rosas, Amnesty International's Americas director.
U.S. Rep. Bennie Thompson of Mississippi, the top Democrat on the House Homeland Security Committee, said, "Criminalizing parents seeking protection for themselves and their children is inhumane, excessively punitive, and can deliberately interfere with their ability to seek asylum."
The American Civil Liberties Union is challenging the practice in a case involving a Congolese asylum seeker who was separated from her 7-year-old daughter for five months and a Brazilian woman who was separated from her 14-year-old son after being arrested and serving nearly a month in jail for illegal entry. At a hearing in San Diego last week, a Trump administration lawyer did not dispute a report in The New York Times that more than 700 children had been taken from their families since October. The attorney, Sarah Fabian, said she couldn't say whether there was a shift since Trump took office because officials didn't have historical data.
"Tearing children from the arms of parents who are trying to save them from violence and persecution in their home countries is unconscionably cruel," Alex Mensing with Pueblo Sin Fronteras, a transnational advocacy group that coordinated the caravan, said. "The mothers on the refugee caravan have defended their children with love and tenacity during their entire journey, and we know that other refugee mothers do the same. The U.S. Government is waging a war on refugee families that has reached a new level of heartlessness and hate. Sessions' attack on the rights of refugees violates both US law and international agreements, not to mention the spirit of welcoming those fleeing violence and in need of refuge. Refugee parents aren't smuggling their children, they're saving their lives."

Just a minute or two into his speech, Sessions was heckled by a protestor demanding through a megaphone that Sessions leave his state and city.
"You are an evil, evil, evil man," the protestor said.
NBC 7 San Diego has since confirmed the man's identity to be William Johnson with a group he called Backbone San Diego.
Sessions did not directly address the heckler but Homan did saying, "The only shame in this media event is people who want to call out American patriots."
Sessions' visit came two weeks after the caravan of asylum seekers arrived at the San Ysidro Port of Entry. The last of the of the 161 asylum seekers from the caravan crossed into the U.S. on Friday to be processed.
Americans "are right to want a safe, secure border and a government who knows who is here and who isn't," Sessions said.
The president is "on fire" about this, he added. "If you are smuggling a child then we will prosecute you, and that child will be separated from you as required by law."
President Donald Trump has railed against the migrant caravan, calling them a threat to national security. He's used the caravan to rallied support for his border wall despite the fact that most asylum seekers turned themselves in to border inspectors.
Sessions called the caravan "a deliberate attempt to undermine our laws and overwhelm our system," pledging to send more immigration judges to the border to resolve cases if needed.
Homan clarified reports about the DHS separating families saying there are no new policies in place. ICE separates parents from children if they cannot prove the adult is the parent and if the parent is being prosecuted for a crime.
"Every law enforcement agency in this country separates a parent from a child when they are prosecuted for a crime," Homan said.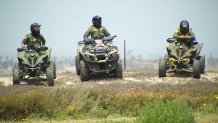 Sessions last visited San Diego in April 2017 with then-Homeland Security Secretary John Kelly to look at ways to improve border security. His visit on Monday will be the fourth high-profile visit to the Southern California U.S-Mexico border from the Trump administration in as many months.
In March, Trump visited San Diego to inspect the border wall prototypes and Department of Homeland Secretary Kirsten Nielsen visited the Calexico border on April 18, while Vice President Mike Pence visited the Calexico border last week.
Copyright AP - Associated Press