A brewpub featuring 22 taps, a full menu and plenty of "attitude" will celebrate its grand opening this weekend in Barrio Logan.
Attitude Brewing Company, which has been fine-tuning its concept since its soft opening in October 2018, will host its official grand opening Saturday. The bicultural, bilingual brewpub is located at 1985 National Ave. in Mercado del Barrio, a hot spot for food and craft beer near the colorful Chicano Park landmark.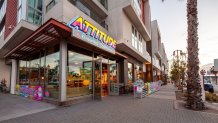 As the name of the brewpub suggests, the craft beers are inspired by different moods. The themed lineup on tap includes "Famous," a Mexican-style lager and "Invincible," a bold coffee stout.
Attitude owner and brewer Kurt Bach said the beers are created with passion, with the art of craft brewing at the core of his business. He said standout suds include the "Intense" Northeast Hazy IPA, which he described as citrusy and refreshing, with tropical fruit flavors like pineapple and mango, and the "Iconic" Hazy Pale Ale brewed with London Fog yeast, which gives it a pale but fruity flavor.
Currently, pints start at $5 ("Reckless" Blonde Ale), but Bach said most average around the $6 mark. Flights – which include four tasters – sell for $10.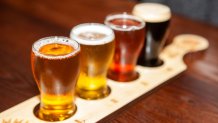 Bach said Attitude's kitchen has been up and running for about three weeks with Executive Chef Frank Pazos – a Barrio Logan native – at the helm. Bach said he wants the brewpub to be known for its food as much as its beer.
"We can't do awesome on beer and not awesome on our food," Bach told NBC 7.
Since the kitchen opened, Bach said the food aspect of his business has drawn more customers and families.
The fast-casual menu – with entrées priced around $10 to $14 – features dishes made using more than 80 percent of ingredients sourced locally including fish bought from local markets. The menu boasts gourmet salads, wraps, burgers, and a signature creation dubbed the "Burger Wrap."
"We put a bacon cheeseburger and fries inside of a wrap," Bach explained. "Sometimes, people come just for the Burger Wrap."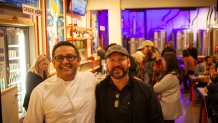 Bach is a big fan of wraps, calling them an "efficient way to get a good meal." He also likes that they're portable and easy to eat. The wraps at Attitude are made with Peruvian tortillas that come in seven different flavors including chipotle, garlic herb, spinach, and jalapeno cilantro.
Bach said the menu also incorporates craft brews into some recipes. For instance, the grilled marinated chicken is marinated in the brewery's "Illuminating" Hefeweizen, while the beef is marinated in "Rebellious" Northwestern Red. A beer-cheese sauce made in-house with the "Reckless" Blonde Ale tops appetizers like loaded nachos and fries.
Bach said he hopes his brewpub is a welcome addition to the diverse community that is Barrio Logan. Bach, who lived in Mexico for more than 20 years, said he loves Latin culture and wanted his business to be located in a community big on culture and arts.
"We didn't want to be another brewery in a warehouse," he told NBC 7. "Diversity is good for everyone."
Bach said he designed the space to reflect the Latin influence in the community. On its walls, the colorful brewpub displays 18 original oil paintings created by Bach's friend, Mexican artist Paco Racru. The art is for sale and, as the paintings are purchased, Racru creates new works to fill the walls.
Attitude Brewing Company is open daily from 11 a.m. to 10 p.m. The kitchen is open from 11 a.m. to 8 p.m. Sunday through Thursday, and 11 a.m. to 9 p.m. Friday and Saturday. Other craft breweries in the neighborhood include Thorn Brewing Co., Iron Fist Brewing, Border X Brewing and Alta Brewing Company.
Attitude is part of a wave of new restaurants planned for Mercado del Barrio including Maggie's Café, Dough Nations and Liberty Call Distilling.