San Diego researchers and the U.S. Air Force are flying straight into so-called "atmospheric rivers" to better understand storm patterns in Southern California and across the West Coast.
USAF Hurricane Hunters and researchers from the Scripps Institution of Oceanography will fly over the ocean Wednesday.
They are headed straight for an atmospheric river that is expected to hit Northern California Thursday and move south by the end of the week.
An atmospheric river is a flowing column of condensed water vapor that can be responsible for significant levels of rain and snow in the western U.S., according to NOAA.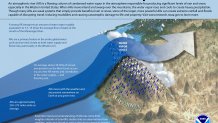 The agency said about 30 to 50 percent of the West Coast's annual precipitation occurs in just a few atmospheric river events.
The team will drop sensors in the storms to measure water vapor content, temperature, wind speed, and direction.
The data collected will be used to improve forecast models and help meteorologists better predict how much rain will be produced from these atmospheric rivers and where they may make rainfall.
Atmospheric rivers can sometimes slam the west coast with intense rain. That can have disastrous consequences in areas recently affected by wildfires.
Last month, rain sent tons of mud and debris smashing into homes in Montecito, killing more than 20 people.
[NATL-LA]Photos: Scenes From Before and After the Mudflow Cleanup in Montecito