San Diego County Sheriff's detectives cracked an investigation Thursday into a mysterious 2014 arson at a Santee shelter.
Det. John Debus in the agency's bomb and arson unit said U.S. Marshal's arrested 23-year-old Francisco "Frankie" Castro on Thursday on suspicion of arson at on the northeast corner of Prospect and Cottonwood avenues in Santee.
Castro is being held on $200,000 bail and scheduled to be arraigned Friday on two counts of arson.
In October 2014, sheriff's deputies said a suspect torched the entire interior of the former shelter in the 10300 block of Prospect Avenue just before 5:10 p.m. on October 2. No injuries were reported.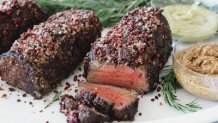 NBC7 Investigates reported on the shelter before it was torched, finding it was kept in crowded and deplorable conditions, and that the residents said they were trading their taxpayer-funded food stamps for shelter provided by the outreach ministry of Pastor David Barrett.