A man wanted in the rape of a woman in Pacific Beach on New Year's Eve is in custody, San Diego Police said Friday.
Jacob Skorniak, 49, was arrested Thursday night in the Santa Barbara area in connection to an attack on a woman who was separated from her friends while celebrating New Year's Eve.
SDPD Lt. Sandra Rapalee-Albrektsen said the victim, who is not from San Diego, was returning from a night out with friends when she somehow got separated from her group. At that point, Skorniak came upon the woman near the intersection of Garnet Avenue and Mission Boulevard.
Police said the sexual assault happened inside Skorniak's truck.
A surveillance camera at a nearby gas station captured photos of the suspect's truck in the area that night: a maroon and silver 1995 Dodge Ram single-cab truck with Colorado license plate 216AAQ.
Photos of Skorniak and the vehicle were released to the public by SDPD.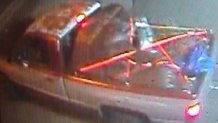 Lt. Rapalee-Albrektsen said the victim, whose age is not being released, was able to give police a detailed description of the suspect and his truck. Detectives were then able to identify the suspect as Skorniak.
According to the police department, Skorniak is from Colorado and has a criminal record. He served two decades in prison for robbing a bank in Colorado, but was free on parole at the time of the rape in Pacific Beach.
The investigation is ongoing and anyone with details on the case or Skorniak's whereabouts should contact the SDPD at (619) 531-2000 or Crime Stoppers at (888) 580-8477.