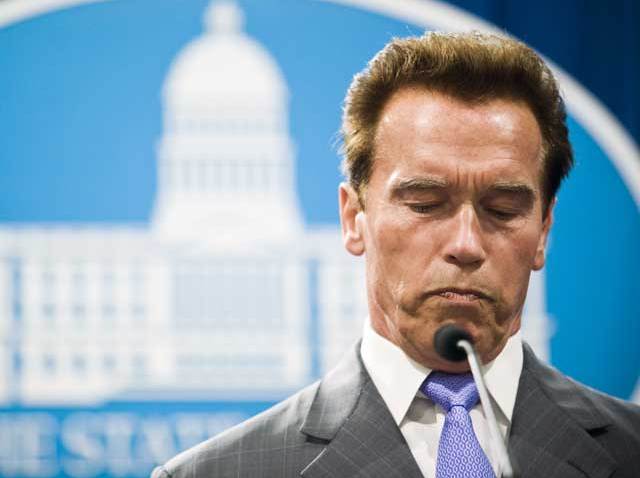 There was no TGIF in Sacramento today.

Gov. Arnold Schwarzenegger released his revised budget plan for the coming fiscal year at 1 p.m. and it called for deep across the board cuts. Topping the list is the elimination of California's welfare-to-work program.
With unemployment remaining high and tax revenue low, California will face a deficit of more than $20 billion -- a quarter of all general fund spending -- in the fiscal year that begins July 1.
Schwarzenegger is seeking the deepest cuts to California's health and welfare programs since the state tumbled into recession nearly three years ago.
The state's general fund spending will be $83.4 billion for the new fiscal year, the lowest level in six years. The administration projects the state is facing a $19.1 billion deficit, more than 20 percent of all planned spending.
"We are left with nothing but tough choices, as you can see," said Schwarzenegger, who appeared somber and at times frustrated in presenting his updated budget plan.
Among the options Schwarzenegger laid out is eliminating CalWORKS, the state's welfare-to-work program. He said cuts over the past few years have done away with the "low-hanging fruit" in state government. Slashing the welfare program would affect 1.4 million people, two-thirds of them children.
"We now have to use the ax," Schwarzenegger said.
Gina Jackson, a single mother who lives in Fremont, said she would not be able finish her college degree in political and social science without the state's assistance. She currently receives about $1,000 a month to cover after-school care for two of her four children.
"I certainly can't take my kids to school with me every single day," said Jackson, 45, who was laid off from her job as an administrative assistant two years ago.
The governor and Republican lawmakers have vowed not to raise taxes, as the Legislature did last year, ensuring that spending cuts will be the main solution. That could leave single mothers, foster youth, children from low-income families, the disabled and seniors who rely on state services feeling most of the pain from the recession's continued effects on California government.

Democrats, the Legislature's majority party, say California already has cut too much from state programs in recent years and will violate the spirit of the recently enacted federal health care overhaul if Schwarzenegger's proposals are enacted.

Schwarzenegger and lawmakers have made cuts, borrowing and adjustments of about $60 billion over the past two years as tax revenue fell far behind annual spending obligations. Among the examples: Dental and vision care benefits were eliminated for those insured under Medi-Cal, the state's version of the federal Medicaid program.

Democratic leaders said ahead of the announced they won't let the welfare-to-work program be cut and have traveled to Washington to lobby California's congressional delegation.

They said they will not dismantle core health and social programs, such as in-home care for seniors, welfare assistance for single mothers and health care for children. It's not clear how those programs will be maintained without a tax increase, which Schwarzenegger opposes, or a significant infusion of money from the federal government.

Schwarzenegger has vowed to protect public education and universities, although it's not clear how he will do so. He also proposed ending state worker furloughs and replacing them with a 5 percent pay cut, and has asked state workers to contribute more to their pensions.

Democrats want to close tax credits and loopholes, noting that the state allows $50 billion worth of tax deductions. In recent years, Schwarzenegger and Republicans won a series of corporate tax credits and giveaways, costing the state treasury an estimated $2 billion a year.

"We must be creative in solving the budget problem," said Assembly Speaker John Perez, D-Los Angeles. "Many options have been exhausted by budget fights over the past few years, which means we need to be as inventive as possible to finding realistic solutions to our budget problems."

A severe national recession has left California with a 12.6 percent unemployment rate, causing a severe drop in tax revenue that shows no sign of abating. Personal income tax revenue in April was down about $3 billion, or 30 percent, from the administration's projections.
In recent years, Schwarzenegger and Republicans won a series of corporate tax credits and giveaways, costing the state treasury an estimated $2 billion a year. They say such tax cuts prompt businesses to create jobs, but Democrats said there is no evidence they have done so.
While Democrats control both houses of the Legislature, Republican support is needed because of the two-thirds vote threshold required to pass a budget and tax increases. Schwarzenegger and the Legislature approved one of the largest tax increases in state history a year ago, raising the personal income and sales taxes, as well as the vehicle license fee.
Republican lawmakers say such a move is off the table this year.
"Until we get serious about job creation in the private sector, California's fiscal problems will continue," Republican Sen. Bob Dutton of Rancho Cucamonga, vice chairman of the Senate Budget Committee, said in a statement. "We won't restore California's economy by trying to tax our way out of our budget problems."
Even last year's temporary tax increases were not enough to put California on firm fiscal footing. The national recession continued to batter the economy of the nation's most populous state, which has been wracked by high home foreclosures and job losses across almost all sectors of the economy.
All the tax increases passed last year are set to expire in June 2011.

Copyright AP - Associated Press