An unknown man wearing a wig pulled out a gun while robbing a gaming goods store in the Lake Murray area last week, opening a bag and demanding employees fill it with cash.
The San Diego Police Department (SDPD) said the armed suspect walked into a GameStop store located at 8898 Navajo Rd. on Aug. 15 just before 5:30 p.m. His encounter with employees was captured on surveillance video and the footage was released by police on Tuesday.
[[441423483,C]]
In the video, the man – wearing a dark red-colored wig underneath a black baseball hat, gray sweatshirt, blue jeans and black gloves – can be seen carrying a small, black bag.
He walks up to the counter, puts the bag down on the counter and removes a gun from his waistband. He places the weapon on the counter for a few seconds, pointing it toward two employees who are behind the counter but out of frame.
The suspect can be seen talking to the employees for a few seconds, demanding money from the cash register and gesturing toward his bag. He opens the bag, and the employees put piles of money inside.
He then briefly paces around the store and walks out.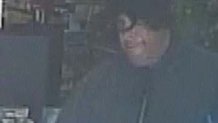 Police said the suspect was last seen getting into a blue or white four-door vehicle and driving away on Navajo Road. He was described as being between 40 to 50 years old, standing at around 5-foot-8, weighing between 200 and 250 pounds.
No one was hurt in the robbery.
Anyone with information on the suspect's identity can reach out to the SDPD's Robbery Unit at (619) 531-2299 or the Crime Stoppers anonymous tip line at (888) 580-8477.