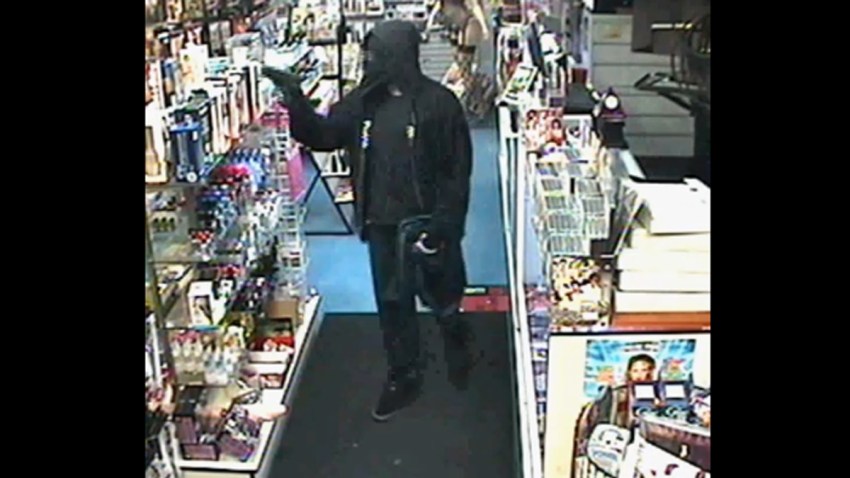 Police are searching for two unknown men wanted in connection with a series of armed robberies at adult bookstores in San Diego.
According to detectives, the adult book store bandits have been involved in at least five similar commercial robberies since March 2013.
The most recent robbery happened Wednesday around 4:40 a.m. at Mercury Books located at 7435 Clairemont Mesa Blvd. That was the third time the bandits have struck at that same exact location.
That adult bookstore was also robbed back on March 16, at around 9:05 p.m, and again on April 13 at around 2:15 a.m.
Other stores targeted by the bandits include the Adult Emporium located at 5101 Convoy Street, robbed around 9:35 p.m. on March 20, and the Adult Depot located at 3487 Kurtz Street #A, robbed around 4:05 a.m. on April 14.
Each time, detectives say the robberies are similar in nature, leading investigators to believe all five cases are related.
In all instances, detectives say the suspects usually enter the store armed with a handgun and a knife. The man wielding the gun usually approaches the cashier and demands money from the register and safe, while the man with the knife robs customers of their cell phones and wallets.
Both men then leave the scene on foot and have been spotted getting into a waiting vehicle parked nearby.
Investigators describe both suspects as men in their 20s, about 5-foot-6 to 5-foot-8, with tall, thin builds. One of the men may be African American. Their getaway car is described as a silver, 4-door sedan, similar to a Honda Accord, with tinted windows and a full spoiler on the trunk.
In some robberies, the men have worn masks.
Surveillance cameras have captured images of the men. One of those videos can be seen below, while others can be seen here and here.
The investigation is ongoing. Anyone with information on these suspects is asked to call the SDPD Robbery Unit at (619) 531-2299 or Crime Stoppers at (888) 580-8477.