Two protests, in opposition to each other, were held near the Oceanside Pier on Saturday.
An anti-Sharia law protest organized by ACT for America, in conjunction with Latinas for Trump and Republican Women of Oceanside, was met in equal measure with an anti-Islamophobia counter-protest.
ACT for America, the largest grassroots anti-Muslim group in the U.S., according to the Southern Poverty Law Center, organized similar rallies across the country.
Protesters shouted at each other from opposite sides of the street while police stood in between to keep the peace.
"This is a movement that opposes Sharia Law and oppression and is for human rights," said Ximena Barreto. Barreto said she organized the march in conjunction with Latinas for Trump and ACT for America and Republican Woman of Oceanside.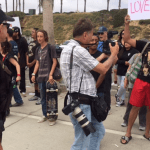 "Now San Diego Unified in conjunction with CARE is putting a Sharia-compliant curriculum in our schools, so we're opposing that. There is a separation of church and state, so I think no religions should be involved in our schools," Berreto tells NBC 7.
The school board described the initiative as an anti-bullying effort aimed at teaching kids about Islam to create understanding. The school board said they are hoping for a safe environment for all students.
Berreto has a six-year-old daughter and says she won't let her be oppressed.
"I refuse to let my country go the way Europe is going," she said.
"They call it an anti-Sharia rally but it's actually disguised as … an anti-Muslim rally," Mustafa Nizam, who took part in the counter protest says. "They're against Islam. They're against Muslims. They don't want us in their country. So when they say they're standing up for their constitution they're actually infringing on our First Amendment rights of freedom of religion."
He says the counter protests stand together against hate, injustice, and bigotry.
"Sharia Law has nothing to do with the country. It's not trying to infringe on the Constitution," Nizam tells NBC 7. "We're not a threat."
One person was taken into custody.