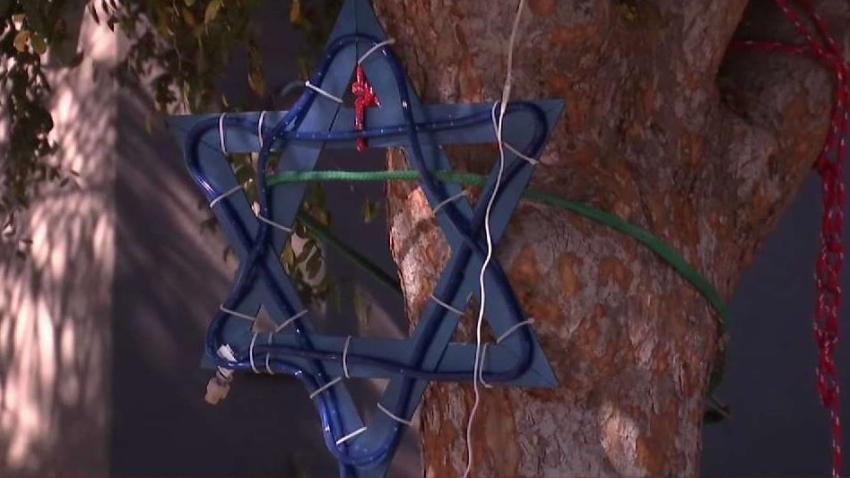 After a swastika was painted on the side of a Poway home with Hanukkah decorations Sunday night, a local organization said it will now give a $3,000 reward for information on the vandalism.
The Anti-Defamation League's San Diego Regional Office (ADL) announced Tuesday that it would reward information that would lead to the arrest and conviction of the any vandalism suspects.
"We hope this reward encourages people to report whatever they may know about whomever is behind this hateful act of vandalism," said ADL Regional Director Tammy Gillies. "We cannot allow such acts of hate, or the prejudice which underlies them, to take place in San Diego County or anywhere else."
The incident is being investigated by the San Diego Sheriff's Department as a hate crime.
Hours after Debbie Seibert put up decorations to celebrate the first night of Hanukkah on Sunday, the Poway resident found a swastika spray-painted on her home and a liquid that smelled like kerosene on her son's car.
"I feel defiled," Seibert, who has lived in the neighborhood for 11 years, said. "It's the first time we've ever decorated for Hanukkah, and it was a very bad result."
Seibert's seasonal decorations include a Star of David hanging on a front yard tree and a series of colorful dreidels projected by a lamp.
She said she will now install year-round security cameras.
An impromptu vigil, with ADL staff, popped up Monday near Poway and Community Roads in support for Seibert, her family, and many others who have faced similar acts of hatred.
Seibert said the show of support was, "overwhelming" and, though she is shaken, she will continue to display her Hanukkah decorations.
Anyone with information is asked to call the San Diego Sheriff's Department in Poway at (858) 513-2800.