The shooting death of one girl and the disappearance of another have residents of San Diego's Grant Hill neighborhood fearful and without answers.
They told NBC 7 Tuesday that it took days before they found out a body discovered in a canyon near their homes was that of 14-year-old Anna Hernandez.
"I'm just really concerned fear has been able to penetrate this neighborhood," said Cindy Ornelas, who taught Anna at Kipp Adelante Preparatory Academy from ages 10 to 14. "There haven't been a lot of answers given and that if it was somewhere else I feel like it would've been treated different, and I hate to say that."
Ornelas lit a candle at a vigil Tuesday night in honor of Anna, whom the teacher knew as Anna Yocopicio.
On Nov. 18, the teen was found dead from a gunshot wound to the chest, her body decomposed in a canyon near 29th and Market streets, according to the San Diego Police Department (SDPD).
"Why was someone so vicious and mean and brutal to just dump her like she's a trash bag?" one woman at the vigil questioned.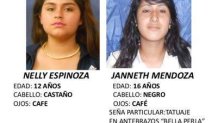 The family of 12-year-old Nelly Tamara Espinoza says the girl disappeared on Nov. 13, around the same time as Anna. A missing persons bulletin distributed by Mexican officials says 16-year-old Janneth Mendoza is also missing. The flier states Nelly and Janneth were last seen in San Diego and are believed to be in Tijuana.
While Anna and Nelly lived in the same neighborhood, Nelly's mother is not sure if they were together the night they both vanished.
The SDPD is staying tight-lipped about the case, only stating that a 14-year-old was found dead from a gunshot wound in the upper torso and the death is a homicide. Investigators have not confirmed if Nelly or Janneth is considered missing.
The lack of answers has Grant Hill residents nervous, and community members said they do not know if there is a suspect on the loose.
"And the kids are afraid, and they're coming from this area, and my understanding is that her brother even walked upon her body in the canyon when they were looking for her," said Ornelas.
The teacher described Anna as a bouncing girl who was not afraid to speak her mind or the truth.
"She sings and she dances and she's just a beautiful human being caught up in something bigger than her," said Ornelas.
She pleaded with officials not to let Anna become another statistic of the area's crime.

[G] Grant Hill Teen Killed