The music and history deep-routed in La Jolla Playhouse's world-premiere "SUMMER: The Donna Summer Musical" brings back fond memories for the actresses and creators of the production.
Ariana DeBose, who portrays "Disco Donna" in the musical, first heard Summer's music as a young child. Even now, the music brings back fond and emotional memories.
DeBose's mother would play Summer's greatest hits album when she was seven or eights years old. The pair would workout together to the music.
"I learned all the words and knew all the different beats and we had steps to them," DeBose recalled in an interview with NBC 7 San Diego with a laugh.
Many years later, DeBose uses that love and passion for Summer's music in her role portraying a part of the disco queen's life on stage.
"Her music for me and my life echoes some of the happiest times in my childhood," DeBose said. "I bring that joy with me to my job every day, and to what I'm doing on stage."
The new La Jolla Playhouse musical tells the life of Donna Summer - the voice of a generation, and the queen of Disco - through the lens of her final concert.
DeBose is joined by LaChanze, who won a Tony Award for Best Performance by a Leading Actress in a Musical in 2006 for her role in "The Color Purple." LaChanze will take on "Diva Donna." Storm Lever, seen in Disney's "Freaky Friday" musical, will play "Duckling Donna."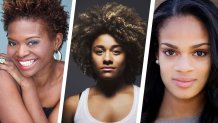 The first thing DeBose noticed with "SUMMER" was the nature of her role, and the structure of the musical: three women of color playing a lead role.
"That was very exciting to me because it's not often that you see three strong black female leads in one show," she said. "It's very rare."
The role offered DeBose a chance to explore Summer's movement at the height of her power. When preparing to take on "Disco Donna," DeBose said, she found her way into the character through the physicality of her movements.
"When she's in full concert production, that is very stylized and very heightened, but then when you're just seeing her living her life, there's still movement in that too," she said. "The way she looks at someone or how she touches her hair, that's all movement, and to me, that's all dance."
In rehearsals leading up to the show, she said, she spent time learning the choreography and building her character with Olivier Award-winning choreographer Sergio Trujillo ("Jersey Boys", "Memphis").
It's a relationship built on trust, she said.
"Sometimes a choreographer says I want you to stand on two and do this step like this, and that's it," DeBose explained. "Whereas Sergio gives me an idea, and 'let's try it my way' and then you find a happy medium."
That's part of the reason the choreography is constantly evolving, Trujillo said. He has built the foundation of the choreography to emphasizes the movement in the 1970s -- the height of Summer's career -- while still letting dancers add their own imprints.
Trujillo, who frequently works with "SUMMER" director and Playhouse Director Emeritus Des McAnuff, said his choreography pays tribute to the period.
"I'm constantly pushing myself to find a way to make it fresh, so it doesn't feel like I am doing choreography from the period," the choreographer said. "Like I've done with every other show I've done, you sort of pay homage to the period but you're not enslaved by it."

"It looks like it's 1970, yet it feels fresh and new," Trujillo added.

Trujillo, who was born in Colombia and raised in Canada, has a strong connection to Summer's music.
"It's in my blood," he said.
As a teenager, he would go with his cousin and his partner to disco dancing competitions all over Canada, and sometimes to clubs, too.
"It's because I was dancing in that era, because I had been so immersed in it through the eyes of a 15-, 16-year-old, it was very much part of the reservoir of dance information I have for myself," he said.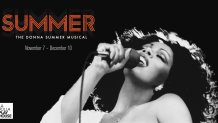 The importance of this music -- and musical -- for many of Summer's fans is not lost on DeBose. Fans coming to see the musical will hear more than 20 of the disco legend's top hits, including "Love to Love You, Baby," "Bad Girls" and "Hot Stuff."
Since joining the production, DeBose said, she's heard from Donna Summer fans across the country. Bringing Summer to life again is a responsibility she does not take lightly.
"The love for her is deep and it's real. The music she made with all her different collaborators held a generation of people together. It gave them hope," DeBose said.
"Now that they get to hear it again, there's tremendous responsibility in giving it back to them," she added. "It almost feels like this is a way for them to have her again."

DeBose wants to audience to be reminded that no matter how fabulous a star's life may seem to the public, not all that glitters is gold. The show does not shy away from the tough moments and the tender moments, she said.
Instead, she said, it's a reminder that perception is everything.
"Unless you're walking a mile in someone's shoes, you actually don't know what their journey has been," DeBose said. "I think some people are going to be surprised by her journey."
The show runs through Dec. 24. Tickets start at $58. To purchase tickets, call Playhouse Patron Services at (858) 550-1010 or buy them online by clicking here.