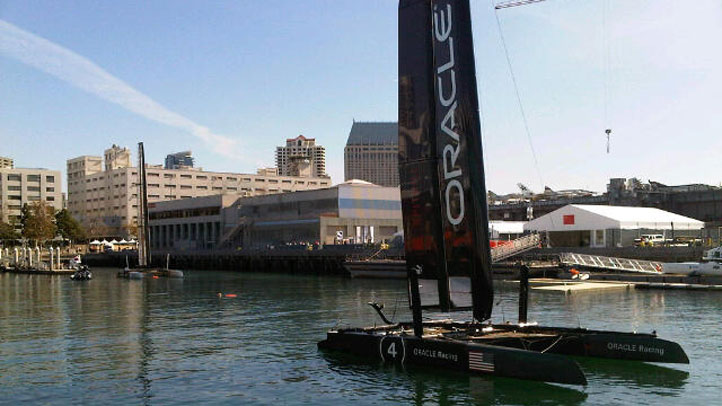 Racers and fans will get a preview of America's Cup - San Francisco in 2013 without even leaving San Diego.
The AC World Series - San Diego begins Saturday with nine crews, representing seven countries training and racing off the coast of San Diego.
But this won't be the racing series of old with boats well off the coast, accessible only to fellow boat owners.
Using new technology, organizers are trying to create an arena on San Diego Bay that will bring the action as close to shore as possible.
The AC 45s are carbon-built catamaran boats with a solid-wing design. They are incredibly quick, reaching top speeds of 30 to 33 knots in very little wind.
They also have tracking within two centimeters and displays to show competitors when they are nearing a limit.
John Craig, principal race officer for the 34th America's Cup as well as the World Series events said these trackers will allow organizers to create an arena on the water.
"Here, San Diego presents itself a perfect amphitheater to bring the arena right up to the shore," Craig said.
"Our goal is to bring as many people to the shore as we can and bring the boats as close to the shore and expose people to an event that has typically been 24 miles off shore and if you don't have a boat or a TV, you're stuck," he said.
The boats themselves are also a preview of the America's Cup race in 2013.
While America's Cup teams will be using will be 72-foot catamarans, the teams are currently getting their designs together using the 45's as a way to develop the technology Craig said.
The 45s are physically a huge challenge.
"We've had Olympic medalists come back from a day of racing saying 'Wow, that really was a full-on day'," Craig said.
And the forecast for wind and rain will provide some great conditions for racing Craig said.
The San Diego Bay event runs from Nov. 12-20. For a complete San Diego event schedule, including racing and entertainment, and viewing areas visit the event website.