An Amber Alert suspect who allegedly abducted her three sons from New Mexico Sunday turned herself in after her vehicle was located in California, authorities said. The woman surrendered at a Lancaster fire station and the children were safe, sheriff's officials said.
The woman, identified as 28-year-old Laria Anderson, was suspected of abducting the boys and driving them through Arizona to Southern California, where she has family, New Mexican authorities said. An Amber Alert was issued earlier in the day.
The stolen car being driven by the suspect was found in La Verne, CA, east of Los Angeles, but the suspect and victims were not located until hours later in Lancaster.
A witness called the La Verne Police Department just after 5 p.m. Sunday to tell them he was parked behind a car matching the description in the Amber Alert. The Kia Spectra was parked on Ramona Ave. and Foothill Blvd.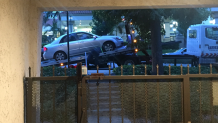 Anderson has full custody of the boys. But the Bernalillo County Sheriff's Office said detectives were concerned for their safety after Anderson made threatening comments to the boys' father early Sunday morning.
The sheriff's office says Anderson made threats against the lives of her children and herself during a fight with their father.
The boys are 6, 8 and 9 years old and were with Anderson late Sunday when she turned herself in, authorities said.
The Bernalillo County Sheriff's Office earlier said the boys could be in imminent danger and that the mother may be armed with a handgun.
They were asking Anderson to get the boys to safety.
Detectives are currently investigating the details regarding their disappearance. It is not yet clear if Anderson will face any charges.