The sister of a 10-year-old girl declared brain dead following a hit-and-run crash said she has forgiven her baby sister's alleged killer.
"And I know everyone expects me to be angry, but I'm not angry," said Jessica Rosete. "Everyone makes mistakes and this mistake is just unfortunately irreversible. And you know what? I forgive her. My family forgives her family."
Raquel Lee Ann Rosete, 10, and her friend, 12, were struck by Julianne Little, 30, when she veered off Santo Road in Tierrasanta and onto the sidewalk. Raquel suffered cardiac arrest and a brain injury; she was declared brain dead Tuesday morning. The 12-year-old suffered serious but non life-threatening injuries.
Following Little's arraignment, where she was charged with felony vehicular manslaughter, non-alcohol with gross negligence, and one count of felony hit-and-run with injury, Jessica stood with a photo of her sister on her shirt, surrounded by friends and family, to speak about her baby sister.
"I am going to miss my baby sister, my only sister, but I know she's happy," Jessica said through tears. "I want everyone to remember Raqeuel, my baby sister, the baby of the family, I want everyone to remember her smiling and doing cartwheels and back flips and dancing."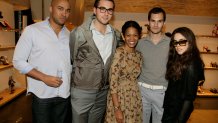 She remembered her sister as a bouncing young girl who was always smiling, always active and always happy; a girl who would often wander into her room and annoy her.
"I don't regret not one time," Jessica said, thinking back to those days her sister would come into her room.
Jessica said she initially felt a strong flush of anger come over her when she first saw Little, the woman accused of striking her sister.
"I had to look down at my shirt, at Raquel smiling, and she's not an angry person," she said. "She easily forgives people, she's such a good person."
That was how Jessica knew she would be able to forgive Little, she said.
"All I can do is forgive her," she said.
Instead, she wants people to look at her only sister and remember her as the happy, joyous and loving person she was.
Jessica did not have a chance to speak with Little Wednesday; she said if she could speak with her, she would only hope Little learns from her mistakes.
"You took something from me that I can never get back. Raquel was my only baby sister. Just doing certain things with your little sister, like going to the prom, going to girls days, you took that from me," Jessica said.
"Hopefully you learn that you've affected a lot of people, especially the big sister, the only sister," she said.
[NATL] Top News Photos: Pope Visits Japan, and More