A man shot and killed by police in El Cajon, California, was not mentally ill but was having a breakdown over the death of a close friend during his encounter with police, his mother said Thursday.
"He did not do anything; he had no gun; he was not mental," explained Pamela Benge, the mother of Alfred Olango at a news conference. "My son is a good, loving young man. Only 38 years old; I wanted his future to be longer than that."
San Diego attorney Dan Gilleon, who is assisting the family while they decide on legal representation, echoed that, although the El Cajon Police Department (ECPD) responded to a report of Olango as an "erractic subject" during the deadly encounter with officers, he was not suffering from mental illness.
"Alfred was not mentally ill. He was going through a mental emergency – a mental breakdown – because he had lost someone he loved dearly. We all go through a bad day," Gilleon said at the news conference.
"This killing, we do not believe was justified," said Rev. Shane Harris, president of the San Diego Chapter of the National Action Network (NAN). "He was attacked, and he was not given the opportunity to live."
Harris, who organized the news conference and is supporting the family, again criticized the decision of the ECPD to release a single still photograph of Olango's encounter with police, which shows Olango in what police described as a "shooting stance," pointing an object now identified as a vaping device at two officers.
He said the photo serves to shape the narrative of the police department, not to tell the full story of what happened during the deadly encounter.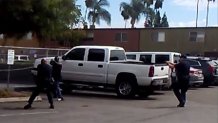 "We only can get a photo – but the country is begging for a video – of him pointing his hands without a gun in his hands," said Harris.
Harris said this image, pulled from a cellphone video captured by a witness and obtained by police, does not represent who Olango was as a human being.
"What Alfred represented was peace and love," said Harris, adding that Olango's family and friends will now lead the fight to frame the narrative because they know who he was.
Harris argued that police are trying to paint Olango as a man suffering from a long-term mental illness when that was not the case.
"You cannot take a breakdown and say that somebody is mentally unstable," Harris added. "We will correct the script."
Once again he called for the full release of the video by police, adding, "The tape shows the whole picture – not just a part of the picture."
Olango's mother gave a glimpse into her son's life, saying that he loved to play soccer and deeply loved his family and daughter.
She said as refugees from Uganda, she came to America with her children seeking safety and a better life for them. Coming from a place of war, she said she did not expect this ending for her son.
"We have come from a war zone. We wanted protection," said Benge. "I wanted a lovely, nice country like this to protect us."
She said the police shooting of her son has forced her to feel pain similar to what she felt in the midst of war in Uganda.
"There is nothing as painful," said Benge, referring to the death of her son. "Pain, it is so much that you cannot swallow it but the pain overweighs you. It is so bitter."
The grief-stricken mother thanked the community for their support. She said that those who plan to continue protesting in response to her son's shooting should do so in a peaceful and non-violent manner.
"I'm always for peace, I don't want war. If you have seen war, you will never, ever want to step near where there is war," she said.
Benge also begged for police shootings of unarmed black men across the nation to stop.
"Humanity is what we would pray for," she said. "Keep praying for my family. We need justice. This kind of thing needs to stop. Don't wait until it's your child. We are all one. Don't kill."
Meanwhile, also on Thursday, U.S. Immigration and Customs Enforcement officials confirmed the agency had tried twice over the years to deport Olango to his native Uganda due to recurring problems with the law.
The Shooting:
Olango was shot and killed by two officers with the El Cajon Police Department (ECPD) on Sept. 27 in the parking lot of a shopping center in the 800 block of Broadway.
His sister had called authorities seeking help because her brother was "not acting like himself," police said.
According to the ECPD, Olango was reported to be "acting erratically," walking in and out of traffic.
When approached by two officers, the ECPD said Olango did not follow police orders to remove his hands from the pockets of his pants. At one point during the encounter, police said Olango pulled an object from his pocket and pointed it at officers while assuming a "shooting stance."
As Olango pointed the object at the officers, one officer deployed a Taser while the second officer fired multiple rounds from his gun at the man, critically striking him.
The ECPD said officers called PERT, a psychiatric emergency response team that deals with calls involving subjects in mental distress, to help with Olango before their encounter with him, but that team was not immediately available because it was responding to another call in the area.
ECPD Chief Jeff Davis said the officers involved in the deadly shooting each have 21 years of service as police officers. The officer who fired the deadly shots has been identified as Richard Gonsalves.
Gilleon said Gonsalves has a history of misconduct on the job.
The killing of Olango is the latest case in a disturbing series of highly-publicized police shootings of black men nationwide that have heightened racial tensions across America.
Olango's shooting has prompted protests on the streets of El Cajon as supporters of the nationwide Black Lives Matter movement seek answers.
Harris and other local civil rights leaders have called for a federal investigation into the case and for the ECPD to release the full video of the encounter, which was captured on the cell phone of a witness.
El Cajon Mayor Bill Wells promised Wednesday that a thorough and transparent investigation into the police shooting was underway. Wells said three agencies were investigating: the ECPD, the San Diego County District Attorney's Office and the FBI.
Harris said NAN will hold a unity rally for Olango this Saturday in El Cajon.