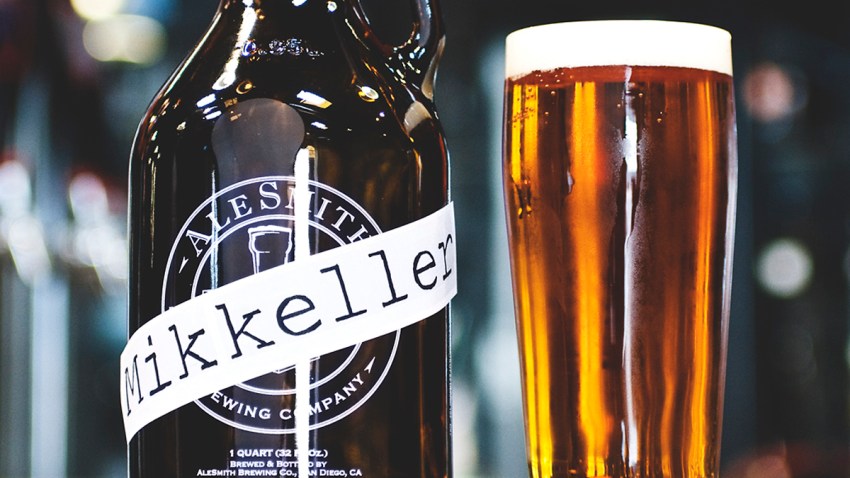 AleSmith Brewing Company announced plans Tuesday to partner with a Denmark-based brewery in an effort to create a new beer business in San Diego.
AleSmith Brewing Company will partner with Mikkeller, a Danish company founded by
Mikkel Borg Bjergsø, for a project dubbed Mikkeller Brewing San Diego.
AleSmith says owner and brewmaster Peter Zien and Bjergsø will work together to run the new craft beer endeavor, which will be housed at AleSmith's original headquarters located at 9366 Cabot Dr. in Miramar.
This will mark the first-ever brick-and-mortar project for the Danish brewer, and Bjergsø says it has long been a goal of his to open a Mikkeller location.
Bjergsø will guide brewing operations at Mikkeller San Diego while Zien oversees various components of the brewing process and other tasks as needed. Zien will maintain a minority stake in the business, the company confirmed.
AleSmith says several members of the company's original brewing team will become employees of Mikkeller San Diego as the company gets its feet, and taps, wet.
The new company's facility will be equipped with the same 30-barrel brewing system AleSmith used to produce 15,000 barrels of beer annually before moving into its much larger 105,500-square-foot facility two blocks west earlier this year.
"I am very excited to announce this partnership to the brewing world," Zien said in a press release Tuesday. "Mikkel and I expect to create unique and flavorful beers of the highest quality, as we are both known for brewing with AleSmith and Mikkeller."
To kick things off, Zien and Bjergsø have collaborated on two new beers -- AleSmith-Mikkeller IPA (India Pale Ale) and AleSmith-Mikkeller APA (American Pale Ale). The brews are currently on tap at Mikkeller Bar in San Francisco. Eventually, various Mikkeller San Diego beers will be bottled, canned and distributed more widely nationally and internationally.
As Mikkeller San Diego grows, Bjergsø plans to work with reputable brewers from across the world to come up with new brew recipes.
Soon, construction will begin at the facility to convert a 750-square-foot tasting room into a Mikkeller beer bar offering multiple brews on tap. AleSmith Brewing Company says that sampling space is slated to open to the public in early 2016.
Bjergsø – a former math and physics teacher – began brewing eight years ago in Copenhagen, Denmark. Today, the globe-trotter exports his micro-brews to 50 different countries and creates beers for gourmet restaurants in Denmark. His brewing has been dubbed "gypsy style."
AleSmith Brewing Company, which first formed in 1995, is currently celebrating its 20th anniversary in the brewing business. The company's craft brews are currently distributed in 19 states across the U.S. and four countries.

The local brewer is in the midst of a major expansion that includes its move into the 105,000-square-foot facility that features an 80-barrel brewing system, which allows AleSmith to increase production.
The site will also eventually include a two-story tasting room and an outdoor beer garden, as well as private rooms and a museum dedicated to late, beloved San Diego Padres legend Tony Gwynn – the inspiration behind AleSmith's popular .394 Pale Ale.