Perhaps now is a good time to plan that vacation.
Alaska Airlines and the San Diego County Regional Airport Authority announced Wednesday that the airline will add six new nonstop destinations this year from the San Diego International Airport.
This includes the following daily flights: Albuquerque, New Mexico; Austin, Texas; Kansas City, Missouri; Minneapolis/St. Paul; Omaha, Nebraska; and St. Louis. Here's a look at the break-down: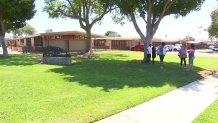 By late August, Alaska will fly 40 daily departures to 28 destinations from San Diego, including the most nonstop flights to Mexico and Hawaii, the company said.
The new routes will be served by the 76-seat Embraer E175 jets. The aircraft include 12 first-class seats, 12 premium-class seats and 52 seats in the main cabin.
Alaska Airlines has been heavily focusing on expanding its service in California; last week the airline announced the addition of 13 new nonstop routes from the Bay Area.
The company says it's the fastest-growing airline in San Diego, in recent years.
"We strive to make flying in and out of San Diego as convenient and enjoyable as possible," said Thella Bowens, San Diego Airport Authority President and CEO. "We're delighted to see Alaska Airlines continue to grow its presence here at SAN, giving travelers more options to explore and connect than ever before."
Previously announced Alaska Airlines routes include daily nonstop flights between San Diego and Baltimore, which start Wednesday, and service three times a day between San Diego and Sacramento starting Thursday. There's also daily service between San Diego and Mexico City; those flight schedules will be announced in the coming months, the company said.
Other airlines have also added new nonstop flights from San Diego this year, including Southwest Airlines and Frontier Airlines.