UC San Diego Professor Robert Brill was working on the workshop for the future La Jolla Playhouse hit "Summer: The Donna Summer Musical" with Director Desmond "Des" McAnuff when he first heard of the Temptations musical.
McAnuff, the former artistic director at La Jolla Playhouse, has worked on two dozen projects with set designer Brill. McAnuff is best-known for his work directing the smash hit musical "Jersey Boys."
"Without fail, each and every project with Des is like a wonderful masterclass where I get to explore new material and stretch myself as a designer," Brill said.
From the first time Brill read the script for "Ain't Too Proud: The Life and Times of the Temptations," he knew it would be an exciting and rewarding journey.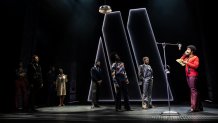 "Ain't Too Proud" first debuted at the Berkeley Repertory Theater in 2017 and went on to play several prominent regional theaters, including the Ahmanson Theatre in Los Angeles, before debuting on Broadway in 2019.
The California-born musical has been nominated for 12 Tony Awards, including a nod for Brill and Peter Nigrini's scenic design.
Ahead of the Tony Awards, NBC 7 San Diego spoke with the San Diego professor about how he built the dynamic set, the evolution of the show and working with Des once again. The interview has been edited for brevity.
Tatro: What excited you about working on "Ain't Too Proud"?
Brill: I knew it would be an amazing opportunity to collaborate with a spectacular team of artists, designers and performers! I'm also blown-away every time I watch this company work, and that includes our exceptional production team that delivers nightly and makes a very complicated show look effortless.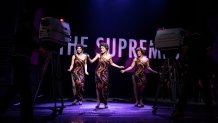 We have more than 32 axis of precision automation that controls the scenery, which is then synchronized with lighting, video, music and our extraordinary company of actors. The overall effect is a fluid evening of very precise and complicated stage pictures. In fact, there are moments in the show that still surprise me! I guess that's when it's most magical, when you can't even begin to explain how it happened. That excites me.
T: What research did you do in advance to inform your approach to building the scenic design for the musical?
B: There was a deep dive into as much visual information that I could find on the Temps and their early beginnings at Hitsville (Motown), as well as the textures and images of Detroit in the 60's. Given that they spent so much of their life onstage, Des and I really gravitated to theatre architecture -- the allure of the theatre facade -- which is how we arrived at featuring the marquee itself as a major element in our design. It's a dynamic piece of architecture that offers a lot of visual storytelling, and a physical element that allows us to change the composition of the stage by expanding and compressing the vertical playing space.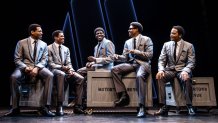 T: How did you and Peter create the set for "Ain't Too Proud"? What did you want the sets to achieve in terms of storytelling?
B: It's been a pleasure to collaborate with Peter Nigrini, who is a brilliant and gifted projection designer. I've admired his artistry for many years, and we're both detail oriented designers and share an appreciation for graphic design. Early in our process, as Des and I began to establish the basic elements of the scenic design, it became clear that both video and projection would play an important role in the design vocabulary. It's been a terrific process to collaborate with Peter, and I am proud of how both scenery, video and projections play and respond to one another in a way that is both dynamic and essential to our storytelling.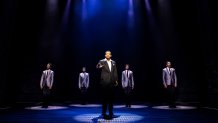 T: The musical's sets are both fluid, minimal and complex. How did you go about achieving this?
B: Before we knew what "Ain't Too Proud" would look like, we knew that it would be kinetic. Because there have been 24 members of the Temptations that have come and gone over the past 5 decades, Des had a strong feeling that the design should takes its cue from entrances and exits -- both literally and metaphorically. So, motion and fluidity -- how characters and elements move and how they are delivery to and from the stage -- was our starting point.
T: What's it like collaborating with Des (McAnuff) and Sergio (Trujillo) again?
B: The three of us--and many of our design team--and have collaborated on numerous productions together over the years. In fact, we collaborated on The Wiz at La Jolla Playhouse, which was the first time I worked with Sergio. I think there's a lot of admiration and trust in good partnerships--and it's fascinating to watch Des and Sergio shape a production. They both work at the top of their form, and I always feel grateful and fortunate to be a member of the team.
T: How does it feel to be nominated for a Tony Award?
B: It's really an honor and a privilege to work on projects that can be appreciated on so many different levels -- it's something that I don't take for granted. And to have the work recognized -- it's really acknowledging the collaboration, and that's something to celebrate!
For more information on "Ain't Too Proud: The Life and Times of the Temptations," click here. The Tony Awards air Sunday on CBS.