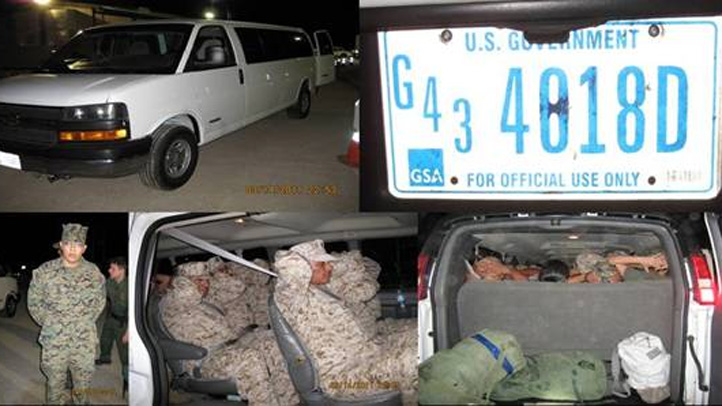 On March 14, there was just something about a tan van that seemed suspicious to a San Diego Border Patrol agent near Boulevard, Calif.
There was the license plate with a zero changed to an eight.
There were the 15 men inside with Marine-style haircuts, wearing military fatigues — normal enough, except each of their name tags read "Perez."
And then there was their inability to aptly respond to the U.S. military-specific questions of the Border Patrol agent, who formerly served active duty in the Marine Corps and Army .
The agent's gut feeling may have been right. He stumbled onto an alleged elaborate hoax.
Jose Guadalupe Ceja Jr., the van's alleged driver, Arturo Leyva Jr., his alleged passenger, and Guadalupe Garcia Jr., suspected of driving another vehicle, have been charged with attempted transportation of illegal aliens.
Three of the 13 alleged illegal immigrants have been detained as material witnesses, and the rest have been sent back to Mexico.
Former federal prosecutor John Kirby said one of things that stood out the most about the incident is the work of the Border Patrol agent, who made a "great catch."
"He was quite resourceful," Kirby said, "and we're lucky he happened to have that background to ask those questions."
Among the questions, court records revealed the agent asked the driver if he knew the Marine Corps' birth date, one of the first facts taught to Marines in basic training.
The driver did not respond.
Although most parties involved in the incident are in Mexico, Kirby does not expect the three men who have been charged to get off quite so easily.
"These uniforms could be used for things other than smuggling people into the country," Kirby said. "They could be use perhaps to gain access to a military base … Just the fact that they would try to impersonate members of the military or to come into here, I believe the US attorney's office is going to take a pretty hard line on that."