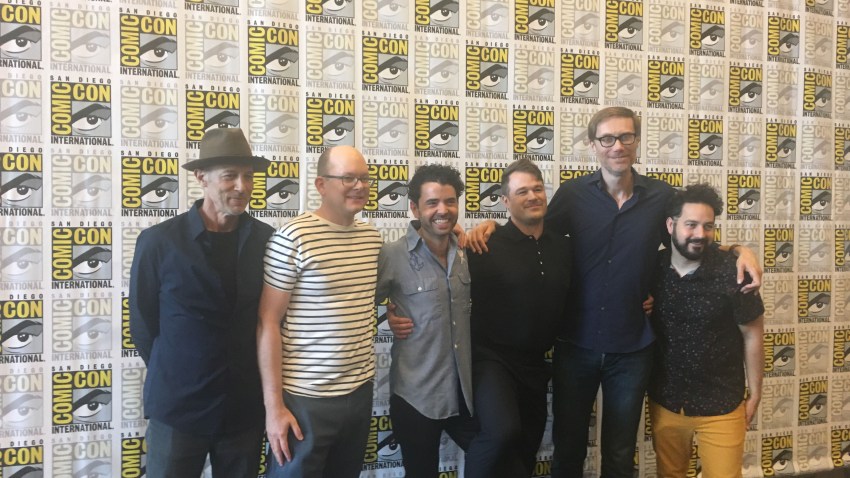 Adult Swim, the kitschy offbeat subset of Cartoon Network, brought their cult but increasing mainstream lineup of shows the Hilton Bayfront for Comic-Con this year.
"Robot Chicken," "FLCL," "Dream Corp LLC," and "The Venture Bros" held panels at the Hilton's Indigo Ballroom on Friday and "The Venture Bros." "Dream Corp, LLC" and Robot Chicken" all have autograph signings at the Sails Pavilion in the Convention center Saturday afternoon.
Jackson Publick, the creator of "The Venture Bros.," (which has been around since 2004) tells NBC 7 he doesn't consciously think about how long the show has lasted.
"Every once in a while I step back and go "'oh that makes us the oldest show cause I was always so used to like "Aqua Teen [Hunger Force] predating us," he says speaking of one of Adult Swim's original shows. "We're really like the last man standing from kind of the first wave of stuff."
It's clear from seeing fan costumes at Comic-Con that the show's villains The Monarch and Dr. Girlfriend are fan favorites, but Publick says that wasn't planned. "The Monarch was just supposed to be a runoff for the pilot," he says. "I personally didn't invest too much into his backstory or his past or anything like that. As we're writing the first season we would kind of come up with ideas for villains and then we would just start riffing on the story and they were just more like 'we need a villain for this story and what does he want? What is he trying to get from Dr. Venture?' We would start coming up with new guys and then go 'screw it, let's just make it the Monarch,' which is like the smartest thing we could have done." Publick says Monarch has basically become the fifth Venture, and for the last couple of seasons, they've been tracking his story more than anyone else's.
"The Venture Bros." seventh season will premiere next month.
"Dream Corp LLC," a show about a medical facility that goes inside patients' dreams to fix their problems, will debut its second season this fall.
Executive producer Stephen Merchant who "Dream Corp LLC" cast member Mark Proksch referred to as coming from a "family of (seaworthy) merchants back in the day" tells NBC 7, "it's a live action show, but whenever we enter the dream world that becomes an animated sequence and so it's sort of a beautiful mix of animation and live action."
Proksch says the show is one of the first to use the process of rotoscoping for the animated sequences.
"It's really interesting because you get to act and what they do is they film that action and then they paint in every little movement, every nuance of your face, everything," Proksch explains. "So it's interesting as an actor, as you're acting think about, 'well, they're going to be animating this, I should do this a little bigger or what have you."
Merchant adds, "What's fun is when you're looking before the animation is done on top, the actors will often – if there's something crazy in the sequence – let's say Mark suddenly sprouts angel wings, he'll be wearing cardboard angel wings in the sequence or a tail or whatever it might be."
Merchant also gave a few details about the new storyline for the robot character, Terry, who he voices. "Terry, bizarrely, although being a robot, has never accessed the internet before," Merchant begins. "And so he discovers the internet in this series, and it turns him into quite a diabolical creature, as you can imagine if you're exposed to the internet belatedly, and you're believing everything, it can take you down some really dark roads."
Adult Swim superfans who don't have tickets to Comic-Con can enjoy an afternoon at the Adult Swim State Park – Convention Center Way and 5th Avenue Pier. There will be chainsaw-wielding wood carvers, a bonfire and canoe races around the lazy river. Fans can also stock up on Adult Swim merchandise.