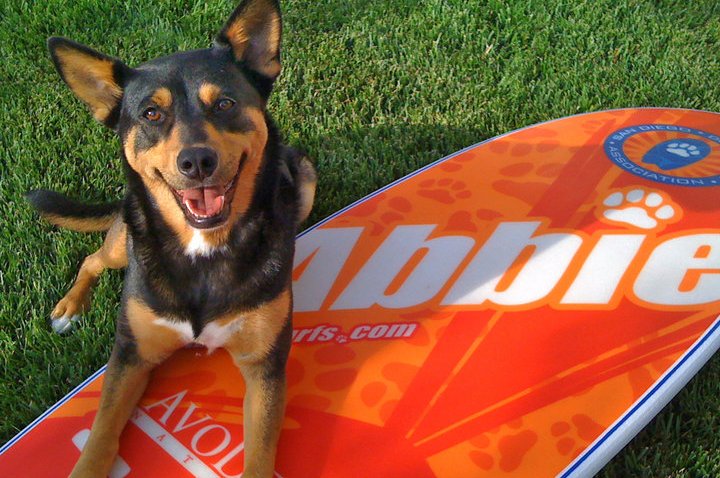 Abbie Girl, an Australian Kelpie, is a rescue dog with an amazing cinderella story. After being rescued at six months old by the Humane Society Silicon Valley, she was adopted and started rehabilitation for trauma. She survived to become one of the top-medaled surfing dogs in the world, and a media star.
Abbie has started a charity, Rescues for Rescues (abbierescues.com), inspired by a woman who helped rehabilitate her as a puppy. Rescues For Rescues is devoted to raising money for women going through treatment for breast cancer.
To find out more about Abbie check out her website at abbiesurfs.com. Also look for her on Facebook and YouTube. And of course, Abbie tweets too.
Abbie is a local icon in San Diego, where she and owner, Michael Uy, can be found surfing year-round at their home break in Del Mar. ESPN calls Abbie the "exception to the rule" for surf dogs. She took off on a board the first time she got on one, "and has been surfing ever since." Michael and Abbie started competitive dog surfing in 2008 - a few days after catching her first wave, she medaled 1st in a heat at the Helen Woodward dog surfing contest, and quickly established herself as a rising star by medaling in every competition in the last two years.
A working breed, Abbie has exceptional balance and drive, which lets her handle human-sized breaks nearly six feet high. Abbie rides the longboard, short board, boogie board, and paddle board. She is well-known for going deep, taking on swells that are easily double and triple over-tail, which earned her the nickname "Outback Abbie" at competitions.
In addition to surfing, Abbie and Michael enjoy many activities together: sheepherding, paragliding, snowboarding, trail running, and tree climbing.
Abbie's credits include an appearance in the 20th Century Fox movie Marmaduke, the TV reality show "Dog Park Superstars," and a feature in Kyra Sundance's latest book, "101 Ways to Do More With Your Dog," to be released this fall.