A six-month-old tiger cub found roaming the streets of Hemet, Calif., last year before being taken in by an animal rescue facility in San Diego County has died, the facility confirmed Tuesday.
Himmel – a Bengal-Siberian cub – first arrived at the Alpine-based nonprofit, Lions, Tigers and Bears (LTB), on Sept. 5, 2015, malnourished, declawed and suffering from an umbilical hernia.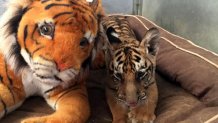 The tiger was first found on Sept. 3, 2015, abandoned in Hemet, northeast of Temecula. A woman turned him into the Humane Society in San Jacinto County, and California Department of Fish and Wildlife officials then sent the cub to LTB in Alpine, where he had been living ever since.
On Tuesday, the facility announced Himmel had died.

"It is with a heavy heart and incredible sadness that we must share with you the news that Himmel, the young 6 month old tiger cub, has tragically passed away," the statement from LTB said.

[[336710271,C]] According to the big cat and exotic animal rescue facility, the tiger cub underwent a routine procedure last week to be neutered, vaccinated and to repair his hernia under the lead of LTB's veterinarian, Dr. Jane Meier.

"The surgery went well and was uneventful. As Himmel was transitioning into surgical recovery, he suffered profound respiratory failure and collapse," LTB explained. "Despite the best resuscitation efforts of the veterinary team and animal care staff, Himmel did not recover."

Dr. Meier believes the most likely cause of Himmel's death was "a severe allergic reaction, anaphylaxis, which occurred in response to one of the injections Himmel was given at the end of his surgery."

"This is the most serious type of allergic reaction and is often fatal. It is the same kind of reaction cause by peanut allergies in people and can happen so quickly and severely that even aggressive treatment is ineffective," the vet added.

[[325523701,C]] When the abandoned cub first arrived at LTB, staffers knew the animal had potential underlying health issues in addition to the hernia and being malnourished and declawed.
However, LTB said staffers thought that with care and proper nutrition, the once-frail, 25-pound cub could morph into an active tiger. Still, animal care experts knew the cub – though happy and playful – had a long road ahead of him.

Following this procedure, LTB says Himmel was also scheduled to have reparative surgery on his declawed paws next month.

LTB says that any decision to perform medical procedures on its animals comes with careful weighing of the risks and benefits, and much planning, always putting the patient's well-being first.

[[324298901,C]] "The sudden loss of Himmel is a stark reminder of how even after thoughtful and thorough consideration of the benefits and hazards, you can never completely eliminate the risks of a medical procedure," the facility said. "Himmel's passing is not only a blow to our sanctuary team, but one of the tragic consequences that stem from the indiscriminate captive breeding of exotic animals. With no family history to reference, it is hard to pinpoint an animal like Himmel's underlying issues."

Himmel was named after longtime San Diego newscaster and LTB supporter Larry Himmel after an online naming contest in October 2015.

LTB described the cub as "playful, goofy, awkward and sweet" and "chock full of personality," despite all he had endured.

"Himmel could always bring a smile to your face with his contagious pure bliss attitude on life," the facility added. "Himmel may not have been with us for long, but he left boundless paw prints on our hearts that will last forever."

LTB said the tiger's passing will continue to fuel the sanctuary's passion to stop exotic animal trade and help animals live safely and peacefully on its 94-acre property in east San Diego. Experts believe Himmel is one of many tigers bred only for profit and then abandoned.