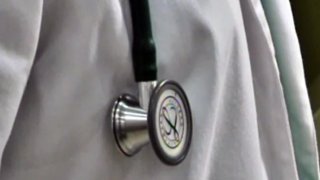 This article has been updated.
Some medical experts say tragedies like the overdose death of Jenny Spielman and the dangerous and illegal self-prescribing of controlled substances by her then-doctor would be reduced if voters approve Proposition 46 on Nov. 4.
Opponents of the ballot measure disagree and said if Proposition 46 passes it will require unnecessary drug and alcohol testing for doctors. Opponents also claim the measure would increase lawsuit settlement payouts for trial lawyers and patients.
Click here to learn more about Proposition 46.
To determine how many local doctors are accused of abusing drugs or alcohol or over-prescribing powerful pharmaceuticals to patients, NBC7 Investigates reviewed every petition for discipline, decision and settlement filed by the Medical Board against San Diego County doctors since January 2011.
The investigation revealed more than one-third of the 111 local doctors targeted by the Board, were accused of - or admitted to - abusing powerful narcotics or other controlled substances, including alcohol, or over-prescribing dangerous drugs for their patients.
The Medical Board cited a handful of doctors for both violations: abusing dangerous substances, and over-prescribing or negligent prescribing of controlled substances for patients.
Below are examples of some of the Medical Board investigations.
Dr. Scott Greer
Dr. Scott Greer has a history of DUI arrests and convictions and, according to the Medical Board's accusation, "is an admitted alcoholic and has a long history of alcohol abuse and relapses after seeking treatment for his addiction."
The Medical Board said Greer left threatening voice mails on a friend's phone and threatened to "split his head open with an axe." Greer allegedly followed through on those threats by chasing the man down the street and hitting him with the blunt end of a hatchet. He then smashed the victim's car twice with the hatchet, "leaving four-inch gashes in his vehicle."
The allegation also reveals Greer had "self-administered Hydrocodone (a powerful narcotic) that was prescribed to his fiance" and "admitted that he had cheated regularly while in (a) diversion (program for alcohol abuse) by freezing his own urine when he was clean and substituting the urine when providing samples for drug screening."
Greer admitted his "excessive use of alcohol" posed a danger to himself and the public, and that he had violated other state regulations. He reached a settlement with the Medical Board that suspended his license for 30 days starting Oct. 24, 2014. He will be on probation for seven years.
Click here to read the documents from the Medical Board.
Greer did not return our message seeking comment for this story, but his attorney, David Balfour, said Greer has been "clean and sober since July 2012." Balfour said Greer takes and passes daily breathalyzer tests and submits to random drug and alcohol testing as required. He also said Greer has had no complaints from patients and has had no malpractice lawsuits filed against him for more than 10 years.

Click here to check the status of your doctor's license.
Dr. Jason Lane
Dr. Jason Lane arrived at work in October 2013 with a blood alcohol level of at least .39 percent, which is almost five times the legal limit for driving, according to the Medical Board documents and confirmed through his attorney.
Lane collapsed on the job and was taken to a hospital emergency room where he was treated for alcohol poisoning. He was later fired from his job with the Southern California Permanente Medical Group. In June, Lane acknowledged his alcohol addiction makes him a danger to the public. He agreed to let the Medical Board suspend his license.
Click here to read the documents from the Medical Board.
Lane's attorney, David Rosenberg, told NBC7 Investigates that his client began abusing alcohol approximately three years ago when he tried to "self-medicate" symptoms of PTSD related to his combat service in the Middle East. Rosenberg said Lane has successfully completed an inpatient alcohol treatment program with outpatient "after-care," regularly attends Alcoholics Anonymous meetings and submits to routine drug and alcohol testing. Rosenberg said Lane is "clean and sober" and hopes to resume his medical practice.
Dr. Paul Frohna
Medical Board documents reveal a local physician with a history of DUIs had to be restrained with handcuffs and shoulder straps during a trans-Atlantic flight after one passenger saw him "lunge at (a) female passenger's breast ... scratch ... spit (and) scream at the top of his lungs."
According to the Medical Board's accusation, Dr. Paul Frohna took a sleeping pill and drank a double screwdriver during a flight from London to San Diego. The complaint says Frohna had no memory of what happened during the flight, and cites a police report that describes Frohna as "refusing to sit down while the plane was in flight (sic) and stumbling over passengers. He refused to follow the directions of the flight crew and captain and kicked and spat at a passenger who tried to subdue him."
Frohna, who has a Ph.D. in pharmacology, blamed the incident on a "adverse reaction" to the combination of the sleeping pill and the double shot of vodka. He acknowledged he should not have mixed the two substances.
Click here to read the documents from the Medical Board.
At his Medical Board hearing last year, Frohna "made no effort to excuse his conduct" and "appeared remorseful and contrite … and although reserved, he showed remarkable insight and was forthright."
The administrative law judge who heard Frohna's case also noted Frohna is a medical researcher, and does not have direct contact with patients. Based in part on those factors, the judge put Frohna on probation for two years, instead of the usual five years, and subjected him to random substance abuse testing.
Frohna and his attorney told NBC 7 Investigates the doctor is in full recovery and other people have similar side-effects when they take Ambien and alcohol together. Frohna's lawyer said the side effects his client suffered can even happen when Ambien is used alone, without alcohol.

Dr. Miles Stanich
The Medical Board's case against addiction treatment specialist Miles Stanich dates back more than 15 years and blames him in part for the death of two patients.
According to the Medical Board's accusation, Stanich committed "gross negligence, repeated negligent acts and incompetence" in his treatment of a patient who had been "found dead, lying on his back, an empty syringe in his hand." Stanich gave that patient a powerful narcotic (OxyContin), without obtaining a "social, addiction, or psychiatric history, nor did he perform a physical examination."
The Medical Board also criticized Stanich's care of a 47-year-old woman found dead in her bed by her son and mother, in September 2000. The Board's accusation notes that the woman "had been a pain patient of respondent's since 1991, and had been an addict her whole adult life."
During a two-year period, Stanich allegedly wrote more than 100 prescriptions for the woman. The prescriptions were for some of the most powerful controlled substances available, including Roxicet, OxyContin and Duragesic.
The accusation also accused Stanich of excessive prescribing, prescribing to an addict, prescribing in the absence of medical indication and failure to maintain adequate and accurate records in his treatment of those two patients.
Click here to read the documents from the Medical Board.
Stanich was placed on three years' probation in 2006, which he successfully completed, but, last year, an administrative law judge revoked Stanich's medical license, citing evidence that Stanich had also engaged in repeated acts of negligence from 2008-10 involving two additional patients.
According to that judge, Stanich also "multiple acts of excessive prescribing" and "numerous acts of unprofessional conduct" in his treatment of one or both of those patients.
Stanich declined to comment for this story, but his attorney, Robert Frank, told NBC 7 Investigates that his client was never accused of any personal drug or alcohol abuse. Frank said Stanich's patients had "verified pain problems" and that the doctor "differs in his philosophy about patient rights to be pain-free, from the Medical Board's philosophy."
Click here to check the status of your doctor's license.
Dr. Bradley John Schnierow
Alleged over-prescribing and illegal prescribing - combined with illegal personal use of narcotics and dangerous drugs prompted state prosecutors to file criminal charges this year against Dr. Bradley John Schnierow. He had an office on the Scripps' Memorial Hospital campus in La Jolla.
According to that felony complaint and a declaration prepared by a federal Drug Enforcement Administration (DEA) agent, Schnierow wrote 73 prescriptions for controlled substances and other drugs for a female patient whom he allegedly started dating shortly after her first office visit.
Click here to read the documents from the Medical Board.
That declaration also notes that a former employee of Schnierow had reported that Schnierow "was abusing drugs and acting erratically" and he had "provided DEA investigators photographs of what appeared to be lines of white powder on Dr. Schnierow's office desk." Schnierow's landlord also told the DEA that Schnierow was evicted from his office "because he was not paying his rent …" and "… his behavior was 'irrational.'"
On July 11, the District Attorney filed an 18 count felony complaint against Schnierow and his then-girlfriend, accusing them of obtaining prescriptions by fraud or deceit, possession of a controlled substance, insurance fraud and other crimes.
One month before those charges were filed, Schnierow agreed to let the Medical Board suspend his medical license indefinitely and prohibit him from practicing medicine in California.
Schnierow has pleaded not guilty to the criminal charges. His preliminary hearing is scheduled for Nov. 19. Schnierow's lawyer did not respond to our request for comment on the case or his client's suspension from practice. Schnierow could not be located.
Dr. Brandon Ross

Editor's Note - Update December 3, 2019: The California Medical Board reinstated Dr. Ross's license in September 2018. He is currently on probation until October 2025. Click here to read more about Dr. Ross's recovery from drug and alcohol addiction.

According to the Medical Board's accusation, Dr. Brandon Ross, a hair-transplant specialist in La Jolla, was stopped by police in October 2011 after his estranged wife reported he had threatened to kill himself.
Officers searched Ross's car, where they found a loaded gun on the passenger seat and extra ammunition. In the trunk, officers found a backpack filled with more than $25,000 in cash, four pills containing Hydrocodone (a powerful and addictive narcotic), hypodermic needles and the tubes and plungers used with those needles.
According to the accusation, Ross "admitted he had consumed two bottles of wine the night prior and about a 'quarter of an eight ball of cocaine around 6 this morning.'" Ross told the Police Department's Psychiatric Emergency Response Team he had consumed another gram of cocaine and two more bottles of wine early that afternoon.
Ross also admitted ordering almost 7,000 doses of a powerful pain killer, "for his personal use" ... and taking "20 to 30 tablets ... every evening."
Click here to read the documents from the Medical Board.
In August 2012, the Medical Board suspended Ross's license for four months and placed him on probation for 10 years. Ross agreed to surrender his DEA permit and stop prescribing any controlled substances. In addition, the doctor promised to "abstain completely from the personal use or possession of controlled substances" and alcohol, and submit to drug and alcohol testing.
But in October 2013, the Medical Board stepped in again, ordering Ross to immediately stop practicing medicine because he failed to submit to substance abuse testing and he had admitted he'd been drinking again.
One month later, in November 2013, Ross surrendered his medical license, without contesting the Medical Board's allegations.
Neither Ross nor his attorney, at that time, responded to our repeated requests for comment on his case.