Law enforcement officers were spotted at several addresses in San Diego and Riverside counties Wednesday connected to the suspect in a shooting at YouTube Headquarters in San Bruno, California.
Investigators said Nasim Najafi Aghdam, 38, approached an outdoor dining area at YouTube's headquarters Tuesday and began firing. Three victims were transported to area hospitals with gunshot-related injuries.
On Wednesday, about a dozen law enforcement officers with the San Diego County Sheriff's Department (SDSO) and the Bureau of Alcohol, Tobacco, Firearms and Explosives (ATF) were spotted at a home in the 4S Ranch community of San Diego, where Aghdam was believed to be living with her grandmother.
The San Bruno Police Department (SBPD) said they obtained a search warrant that covers "multiple locations in Southern California and a multitude of vehicles."

Agents entered the home for hours and also searched a nearby dumpster, seizing several items and carrying them away as evidence.
Earlier in the day ATF agents entered a home in Menifee, California, where Aghdam's parents live.
Authorities said Aghdam was possibly angry about the policies and practices of the company and drove from San Diego to the YouTube's headquarters south of San Francisco, stopping at a gun range before opening fire.
Woman Who Opened Fire at YouTube HQ Last Lived in San Diego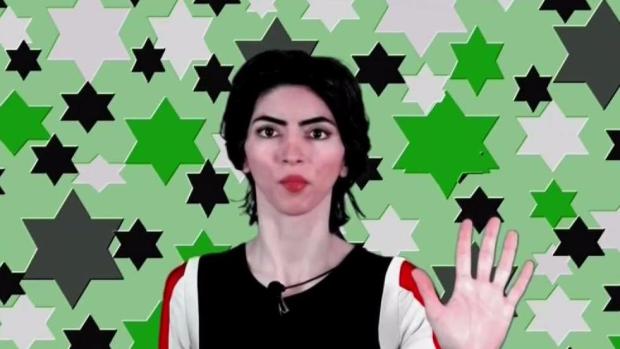 Aghdam has a robust presence on YouTube. In a video posted in January 2017, she says YouTube "discriminated and filtered" her content. In the video Aghdam says her channel used to get lots of views but that after being filtered by the company, it received fewer views. In a Facebook post from February 2017, Aghdam blasted YouTube saying, "There is not equal growth opportunity on YouTube."

The NBC Bay Area Investigative Unit learned the license plate on a car towed from YouTube's campus Tuesday is registered to Aghdam.
Earlier that day, authorities found her sleeping in a car in a parking lot in Mountain View — about 30 miles from YouTube's headquarters — but let her go after she refused to answer their questions. Aghdam didn't appear to be a threat to herself or others, police spokeswoman Katie Nelson said.
Police checked out the license plates on her car, which was parked on the 600 block of Showers Drive, and found that it belonged to Aghdam who had been reported missing on March 31 to SDSO.
Mountain View police said Wednesday that during their encounter with Aghdam, she said she was currently living out of her vehicle and that she came to the area to stay with family and find a job.
Photos: YouTube Shooting Unfolds in Chaotic Scene
"At no point during our roughly 20 minute interaction with her did she mention anything about YouTube, if she was upset with them, or that she had planned to harm herself or others. Throughout our entire interaction with her, she was calm and cooperative," Mountain View police said.
Mountain View police later phoned her family to let them know she's no longer missing, police said. Aghdam's father said they had been having family issues at home but he didn't appear to be concerned about why she left, according to police. The father called back to say she might be upset at YouTube and wanted police to know it could be why she moved to the area.
"At no point did her father or brother mention anything about potential acts of violence or a possibility of Aghdam lashing out as a result of her issues with her videos," police said in a statement.
Police said that they received numerous 911 calls regarding gunshots near the area of Cherry Avenue and Bay Hill Drive in San Bruno around 12:46 p.m. They responded to the scene within two minutes.
Photos: YouTube Shooting Unfolds in Chaotic Scene

The 911 emergency call describes the first minutes of the scene: "From one of the witnesses coming in, they identified a female in a white shirt. That's the one we have down in the center court area with the gunshot wound in the chest," an officer can be heard saying. Another officer responds: "So confirming she is the suspect."
The first officer replies: "Affirmed, that's what we are told. There is a handgun about 20 feet to the south of her."
San Francisco General Hospital said it received three patients: a 36-year-old man was in critical condition, a 32-year-old woman was in serious condition and a 27-year-old woman was in fair condition.
SBPD said at this time, there is no evidence that the shooter knew any of the victims or that any of them were specifically targeted.
Television news footage showed people leaving the building in a line, holding their arms in the air for police to inspect as they went by. Officers patted down people grouped outside, and police vehicles surrounded the area.
Videos and photos on social media showed YouTube employees walking out of offices with their hands raised. SWAT teams surrounded the campus, guns drawn.
On Twitter, YouTube employees reported hearing multiple gunshots inside the campus, using the hashtag "#YouTubeShooting." A few were live tweeting what they saw while they were hiding in their offices.
"I am hiding barricaded holy s__," tweeted an employee with the Twitter handle @_lilchen.
"I got evacuated outside with my hands up. I'm with other people. I don't think the shooter's been found that I know of. I saw blood drops on the stairs I walk up everyday. I'm shaking. This is surreal. I hope my colleagues are okay," she tweeted a few minutes later.
And then, an update: "I am behind another building with colleagues. There are helicopters. There are lots of police nearby. I don't know if the shooter has been found. If you hear they've been found, tell me. I'm safe for now, but don't feel safe until they've been found."
Witness Describes YouTube HQ Shooting Victims
Workers in offices close to the YouTube headquarters reported "closing blinds, keeping quiet" as police are nearby.
A person with the first name "Erin: live-tweeted as SWAT teams descended on the YouTube office.
"There is a shooting - people are running out of the building with their hands up. I can't believe I am watching this," she tweeted.
She described a chaotic scene with ambulances in front of the building, sirens everywhere and police officers with rifles.
"We are seeing @YouTube employees being brought out with hands up!" one of her tweets said.
YouTube product manager Todd Sherman tweeted that he was sitting in a meeting when he heard people running "because it was rumbling the floor. First thought was earthquake."
"After exiting the room we still didn't know what was going on but more people were running. Seemed serious and not like a drill," he tweeted. "We headed towards the exit and then saw more people and someone said that there was a person with a gun. S___."
"At that point, every new person I saw was a potential shooter. Someone else said that the person shot out the back doors and then shot themselves," Sherman's next tweet read. "I looked down and saw blood drips on the floor and stairs. Peaked around for threats and then we headed downstairs and out the front."
A YouTube employee who was inside the building spoke to NBC Bay Area and said he was getting back from lunch when the fire alarm went off. He said he heard a couple of gunshots and heard a woman yelling and cursing "like she was mad."
Marco Tartaglia, who works at a Walmart near the complex on Cherry Street, told NBC Bay Area he heard about 15 shots "from the direction of the YouTube building, from what sounded like inside."
"We heard the shots first, and that immediately drew us over to the window to see what the heck's going on, and next thing you know, you see people streaming out just running, dozens of them, just running out the front exit," Tartaglia said.
Police Respond to Reports of Gunshots Near YouTube Office
President Donald Trump said he has been briefed on the situation. "Our thoughts and prayers are with everybody involved," he said.
Sen. Dianne Feinstein tweeted out: "My stomach sinks with yet another active shooter alert. I'm praying for the safety of everyone at YouTube headquarters."
The YouTube campus is a small one compared to that of its parent company, Google.
"This is a terrible day in the United States, when once again we have a multiple-casualty situation that has confronted us," Andre Campbell, a surgeon at Zuckerberg San Francisco General Hospital, told reporters.
Tim Cook, Jack Dorsey and Google CEO Sundar Pichai all tweeted out statements in support of the victims.
"There are no words to describe the tragedy that occurred today. @SusanWojcicki & I are focused on supporting our employees & the @YouTube community through this difficult time together. Thank you to the police & first responders for their efforts, and to all for msgs of support," Pichai tweeted.