A Southern California bank robber known as "The Hills Bandit" is at it again, this time robbing banks in both Laguna Niguel, California, and San Diego over the course of only a few days.
According to the FBI, the bandit's latest heist was on Monday around 12:20 p.m. at the California Bank and Trust at 4320 La Jolla Village Dr. Investigators said the suspect walked up to a teller and presented a demand note stating this was a robbery and that he wanted bills in the denominations of $20, $50 and $100. He said he had a gun and threatened to start shooting people if his demands were not met.
After receiving some cash, he left. No one was injured, officials said.
A couple days earlier – on Aug. 22, also at around 12:20 p.m. – The Hills Bandit struck at a Wells Fargo Bank on Town Center Drive in Laguna Niguel. Again, he used a handwritten note demanding $20, $50 and $100 bills and said he'd shoot everyone if he didn't get his money.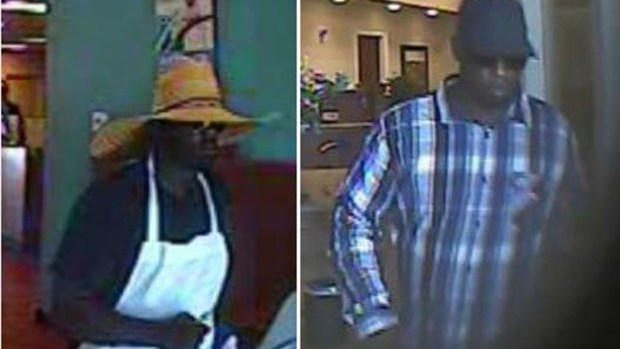 Bank Bandit Strikes Twice in 4 Days
He got his cash and fled the scene. Investigators said no gun was seen and no one was injured.
Since May 2014, the lone bandit has robbed multiple banks in Southern California, mostly in the Los Angeles area. On Aug. 5 he hit a U.S. Bank in Carlsbad.
The FBI said witnesses describe the bandit as a white male between 40 and 50 years old. He's approximately 5-foot-6 to 6-feet-tall and 180 to 90 pounds. He typically wears glasses and a baseball hat during his robberies. In the last two hold-ups he wore a red Anaheim Angels baseball cap.
Investigators said The Hills Bandit has also been seen carrying a blue bank deposit bag during each robbery. A silver car has been seen at two of the robberies as well.
To date, he remains at large and is considered armed and dangerous.
Anyone with information on The Hills Bandit should contact FBI San Diego at (858) 320-1800, Crime Stoppers at (888) 580-8477 or FBI Los Angeles at (310) 477-6565.

Published at 1:59 PM PDT on Aug 28, 2014