As the search for a missing Oceanside fisherman continues, the man's sister made an emotional plea to the San Diego community Wednesday to help find her brother.
"He's been on the water almost 48 hours now. We just need help. If you have a boat, or some type of watercraft please, please get in the water and help," pleaded Angie Richards.
"I'm just begging San Diego to get out in the water. I need people to get on the water to help my brother, to help find him, and adopt him. Pretend he's part of your family, go out and look for him. If we all work together, we can get him home," she continued through tears.
Loren Ruden, 53 (pictured below with his family) has been missing at sea for more than 48 hours.
The U.S. Coast Guard and FBI are leading the charge in the extensive search for Ruden – a search grid that spans a 17-mile stretch of the California coastline, from San Mateo Point to La Jolla.
Officials say Ruden launched from Oceanside Marina around 11:30 a.m. Monday. His dog, Sadie, was found sitting on the beach just north of Oceanside Pier later that day.
A passer-by called the phone number engraved on Sadie's dog tag, reaching Ruden's wife and setting the search in motion.
On Tuesday, Ruden's 21-foot Striper he named "Lucky Dog" was found 10 miles northwest of La Jolla traveling in circles at idle speed with no one aboard.
The boat was towed in by Oceanside Harbor Police and processed by investigators for evidence.
Richards -- tearful but still hopeful for her older brother's safe return – said investigators have been analyzing the GPS found in Ruden's boat, using the device to pinpoint his last known location.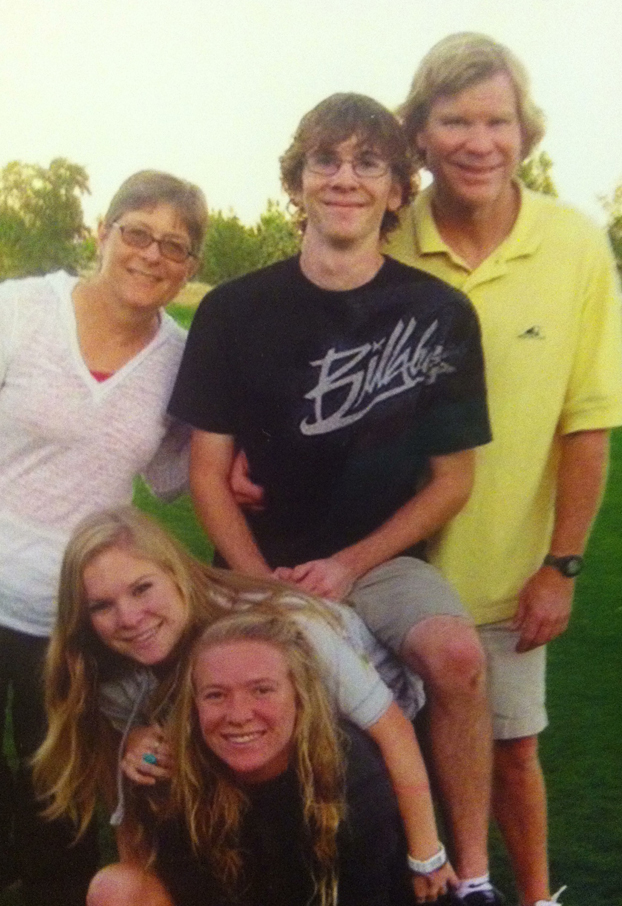 She said investigators and her family are sure he's somewhere in the Oceanside Harbor area, possibly a bit north and a few miles out.
However, given the distance between where Ruden's dog and boat were found, the search area is large.
"We need help. The more boats out there the better. We have one goal, and that's to get my brother home, back to his family," Richards told NBC 7 on Wednesday.
With ongoing assistance from authorities, including the U.S. Coast Guard, FBI, Oceanside Police Department and lifeguards, plus the public, Richards is confident her brother will be found.
Richards said Ruden is an experienced boater and fisherman who goes out on the water every few days, often times with his dog.
"He knows the water well, and he's super tough. He's a smart boater," she explained.
Experience, combined with good health and a tough will to live, makes Richards believe that her brother is fighting to survive out there.
"His family is his life, and he would be fighting every second to make it. I don't care what the statistics say, he knows people are waiting for him -- his wife and kids are waiting for him," said Richards. "He is so missed right now."
For boaters who want to help in the search, Richards said there's a ramp at Oceanside Harbor where boaters can meet with officials, who will then direct boaters on where they should go.
Richards said her family and Ruden's friends are in "action-mode" and will continue searching until they find him. Still, questions linger in her mind that make every hour and every second more difficult than the last.
"[Our family] doesn't seek out danger. We're just like, 'Why? Why us? Why my brother's family?'"
Local fisherman Joey Helgren, who owns Helgren's Sportfishing in Oceanside, planned to spend Wednesday in the water searching for Ruden with friends.
He told NBC 7 that he and his 30-person crew of friends felt compelled to do their part.
Helgren has personal past experience searching for someone missing at sea. About 10 years ago, his nephew disappeared under similar circumstances during a fishing trip. His nephew's boat also wound up drifting a long distance away, from La Jolla to Encinitas Point.
Helgren believes a powerful current could have pushed Ruden out to sea, but may also eventually push him back to the point where he launched from in Oceanside.
Helgren hopes Ruden has found something to cling onto, such as a piece of wood, to keep his body partially out of the water and increase his chances of survival.
"For the last three or four months we've had a current that's been running up the coast. It's very strong," he explained. "We will search with our big boat and 60 eyeballs looking in all directions. We'll go back out and look again and again."
Meanwhile, the U.S. Coast Guard told NBC 7 that searchers had found a life jacket in the search area on Wednesday, but officials believe it's too old to have been used by Ruden.
A private searcher said he heard a report of a body spotted nine miles west of Del Mar, but found nothing when he and his crew combed that area.
Just after 7 p.m., local Coast Guard crews suspended the search for Ruden.