Several power poles toppled over for unknown reasons in El Cajon Thursday, creating a domino effect and a power outage that continued through the next morning.
Heartland Fire & Rescue and San Diego Gas & Electric officials arrived in the 300 block of South Mollison Avenue and East Lexington Avenue around 4:45 p.m. to check out reports of downed power poles.
Eight power poles were either leaning or had fully fallen over into the street.
Fire officials set up a command post near the intersection and secured the area for investigation.
SDG&E says an automatic switch immediately de-energized the lines once the first pole fell so nobody was hurt.
Crews worked carefully for hours to figure out what's underground, so they wouldn't dig up any water lines. AT&T and Cox Cable crews are also at the scene.
Officials temporarily blocked off traffic at Mollision Avenue between Main Street and Washington Avenue, while police provided traffic control.
Officials say the cause of the downed power poles is unknown at this point.
Residents were kept from returning to their homes for hours.
Roger George manages an apartment complex in the area. "I got people telling me 'Text me when you know I can get in.' So I got people at friends' houses, relatives houses, waiting to hear from me so I can say it's good to come in," George said Thursday night.
El Cajon police eventually escorted residents back into their homes late Thursday evening.
Initially hundreds of customers were without power, telephone and cable service. As of 7:45 p.m., there were still about 600 people without power in the area. That number had dropped to approximately 80 customers as of 7 a.m.
SDG&E spokesperson Amber Albrecht told NBC 7 power could be restored as early as 4:30 p.m. Friday but that time is an estimate.
The first downed pole was reported at about 4:30 p.m. Thursday. As far as officials could tell, this first downed pole created a chain reaction, causing several other poles to follow suit and topple over.
No one was injured and there were no car accidents on the impacted streets.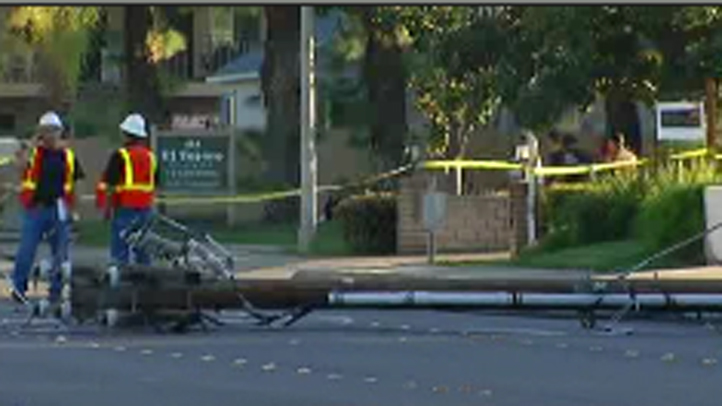 El Cajon PIO Monica Zech said two poles fell down completely, and six others were leaning and "compromised."
Although one El Cajon resident told NBC 7 she saw some power poles leaning Wednesday, Albrecht said she was not aware of any calls or concerns.
A Heartland Fire spokesperson told NBC 7 that in addition to finding enough crews to replace the poles, officials had to wait for crews to identify where water, gas and sewer lines are located before they can start digging.
Camelot Gardens resident Travis Matern had a theory connecting the pole collapse to a recent quake.
"I couldn't understand why it just fell, I didn't think there was any way that the earthquake that happened a couple days ago could have knocked down a power line and if it did they should have been checked after an earthquake everyday it should be checked," said Matern.
The city will be evaluating the condition of other utility poles in the area.
Published at 5:28 PM PDT on Mar 14, 2013 | Updated at 9:19 PM PDT on Mar 15, 2013