Evacuation orders have been lifted for residents living in Pala, where a brush fire scorched more than 350 acres. It was just one of four fires that broke out Monday in San Diego County.
A vehicle hit a pole on Pala Temecula Road igniting heavy brush and forcing the evacuation of 35 homes.
Resident Joseph Trujillo captured the flames on home video.
"It was catching really quick, I was surprised how fast a fire can move from being small to taking the whole mountain," Trujillo said.
"I went outside to my backyard and got the water hose ready just in case the fire got too close."
The reverse 911 system warned people to evacuate.
"We have some areas out there that are 70 year old fuel beds, we could call them our heavy vegetation or heavy brush areas," said CalFire Capt. Mike Mohler. "So these are very thick areas, put off a lot of heat a lot of smoke and if they have a wind behind them, they move rapidly."
The Pala Fire was 60 percent contained. Full containment was expected late Tuesday with full control expected by 6 p.m. tomorrow.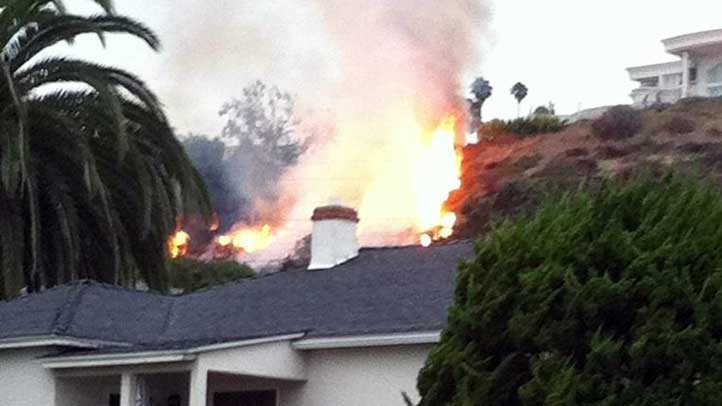 In La Jolla, fire burned behind homes along Bellevue Avenue around 7:15 p.m. Monday. Three acres burned. There was no damage to homes but the flames could be seen along the coast. Several homes had to evacuate as fire crews battled the fire. San Diego police officers said children may have set the fire.
Another brush fire that scared residents out of their homes in City Heights may have been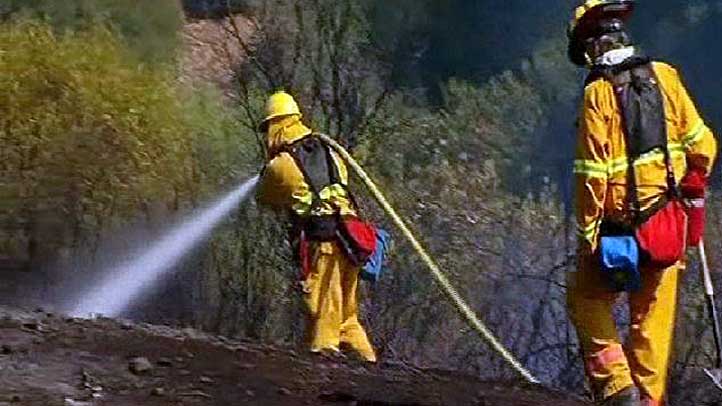 intentionally set.
Flames started in the Manazitas Canyon, next to interstate 15 just south of a residential neighborhood. Watch video
Homeowners moved cars and left their homes around 2:30 p.m. as dozens of homes on either side of the canyon were threatened.
Firefighters knocked down a brush fire in Ramona that burned about 60 acres near Wildcat Canyon and San Vincente Roads.
About 100 firefighters were called in around 3 p.m. Monday. One of them suffered heat-related injuries in the 99-degree heat. No structures were burned. Watch Video
Tuesday's weather brings nothing but good news for firefighters according to NBC 7 San Diego forecaster Whitney Southwick. Along with low humidity, there will be an onshore flow that should bring cooler temperatures.
Keep up to date on breaking news: Follow us on Twitter @nbcsandiego, fan us on Facebook, sign up for our breaking news e-mail alerts or text SDBREAKING to 622339 to receive text messages for local breaking news. (Standard rates apply)
Published at 6:26 AM PDT on Aug 30, 2011 | Updated at 2:40 PM PDT on Aug 30, 2011