Several people were rushed to the hospital after a firewalking event Wednesday night, according to officials.
The company, Adconion Media Group, had hundreds of employees participate in the team-building firewalk where people walk over a bed of hot wood pieces. The event happened around 8:30 p.m. at Paradise Point Resort and Spa in Mission Bay.
After the company-bonding activity, at least three adults called 911 reporting burns to their feet. Paramedics and San Diego firefighters responded at 9:45 p.m. It's not yet clear if they were the ones who were injured or if they were guests or employees of the hotel.
The victims were transported to UCSD Medical Center with minor burns to the bottom of their feet, said San Diego Fire Department spokesperson Maurice Luque.
NBC 7 San Diego has reached out to the company that held the bonding event for its employees, but they have not yet released a public statement.
Paradise Point Resort and Spa hired a private "fire watch company" for the event and issued a statement saying:
"Adconion Media Group told us about its plans for a fire walking activity on an adjacent beach. Safety is a top priority for our guests. Even though it would be a private event on public property, we still advised against it, because of the dangerous nature of this kind of activity. We are glad San Diego Fire was able to respond promptly and that nobody was seriously injured."
A common firewalking event offered to the public is usually 8 and 12 feet long according to The Firewalking Institute of Research and Education (F.I.R.E.), an organization that offers training and certification to firewalking instructors.
The organization also informs users of its website "there is definitely an inherent risk when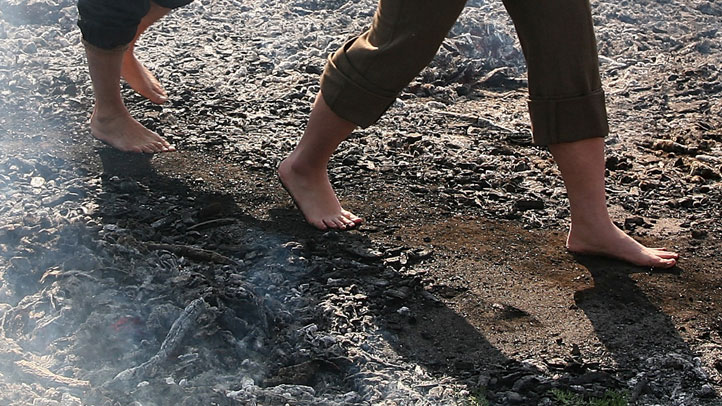 firewalking."
It is not known if this firewalking event involved a certified F.I.R.E. instructor.
SDFD said there are no state or local fire codes that prevent people from walking on burning coals on beaches.
"It's a subjective judgement that somebody has to make for themselves," said Luque. "There's risk...Common sense had to prevail."
The image above was captured at an annual firewalking festival held in Toyko, Japan.

Published at 7:52 AM PDT on Apr 4, 2013 | Updated at 8:53 PM PDT on Apr 4, 2013