Whether it's pounding a pint before kick off or sporting a lucky jersey or bolo tie, everyone has a game day tradition. In San Diego, there are plenty of winning sports bars where football fanatics can meet to cheer on the Chargers or their team of choice. Win or lose, these businesses – highly rated on Yelp – are worth a toast.
Photos: SD Restaurant Week
High Dive Bar and Grill (Bay Park)
Bring your face paint, jersey and hunger to High Dive and you're sure to leave full and happy. This bar and grill features generous portions to serve any game day craving. If you're really feeling festive, try their Kraken Burger: a 2/3-pounder loaded with onions, bacon and cheese sandwiched between two toasted peanut butter and jelly sandwiches. Unleash the Kraken on your game day tradition.
Irina's Bar and Grill (Oceanside)
Is a traditional pint not cutting it for you on game day? Head into Irina's for 60-ounce options on select beers. Pair that with some juicy bratwursts and house-made sauerkraut and you'll be ready for kick off in no time. Between its NFL Game Day Specials, an extensive beer list and its delicious German and American dishes, you'll never want game day to end at this North County spot.
Cali Comfort BBQ (Spring Valley)
If there's one thing that goes with football and beer, it's barbecue. Cali Comfort slow cooks all its meat for up to 14 hours and seasons it with homemade dry rub. With this much commitment to every meal, it's no wonder this BBQ joint is considered a high-quality San Diego hotspot. By the way, Cali Comfort is sponsoring a 4th annual Spring Valley Tailgate and BBQ Festival on Oct. 26. Click here for details.
Añejo Bar and Grill (Escondido)
If you're looking to add a little spice to your season, stop by Añejo and enjoy some authentic Mexican food and drinks with the game. We recommend the Abujas En Salsa Molcajete, a dish of grilled short ribs covered in a unique, fire-roasted salsa. Paired with one of the nine different margarita selections on the menu, Añejo is a touchdown for your taste buds.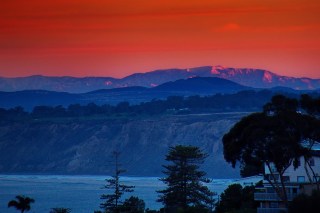 Why We Love San Diego Gallery II
Endzone Pub and Grill (North Park)
Names don't lie, and Endzone is definitely a score in the sports bar department. This bar boasts more than 50 beers and $4 pints of some of San Diego's locally brewed favorites during Happy Hour, plus great deals on wings, nachos, ceviche and other bar food. With every seat in viewing range of a TV, you'll never miss a play.
Cardiff Beach Bar At Tower 13 (Cardiff-by-the-Sea)

Tower 13 plays every game on Sundays, but after the fourth quarter is over the party doesn't have to stop. Swing by for some post-game festivities, too, including Prime Rib Night, live music and trivia. Don't forget to taste the amazing Bloody Mary in the menu, homemade-infused vodka and all.