Crowds of locals and tourists alike spent Fourth of July along the San Diego coastline and left behind thousands of pounds of trash.
On Friday, several hundred volunteers spent the morning picking up after the party.
The Surfrider Foundation estimated 12,685 cigarette butts were picked up from San Diego County beaches.
That's just part of the 2300 pounds of trash and 195 pounds of recyclables the group says it cleared from the beaches Friday.
In Ocean Beach, most of what was left after the traditional Fourth of July Marshmallow Fight was gooey.
"Just look at it. I live here. It's a disaster," said Chuck Hardwick of Ocean Beach.
Don't paint Hardwick a victim just yet.
"I feel guilty because I was out here but I feel I should pick up what I threw," he admits.
City crews got up early to pick up the trash left behind in Mission Beach filling dozens of trash bags to capacity.
Locals say it could have been worse---but thanks to large cardboard trash boxes on the beach and an outlaw on drinking each year seems to get better.
"Back a couple years ago when you could drink it was bad. People just didn't care," said Steven Bennett of Mission Beach.
Cleanups were held at Belmont Park, Crystal Pier and Ocean Beach Pier, and the beach at the south harbor jetty in Oceanside.
Along with the cigarette butts, Surfrider Foundation organizers say they collected 764 plastic bags and 1,163 pieces of Styrofoam.
Here's the group's breakdown:
Ocean Beach Pier
168 volunteers
2,395 cigarette butts
407 plastic bags
131 styrofoam pieces
1,802 lbs trash
32 lbs recycling
Most unusual item(s): BBQ, marshmallows and marshmallow guns
Belmont Park
190 volunteers
8,911 cigarette butts
298 plastic bags
703 styrofoam pieces
389 lbs of trash
125 lbs of recycling
Most unusual items: fake mustache, glow sticks, pipe, landline telephone base, TV (x2), golf tees
Crystal Pier
57 volunteers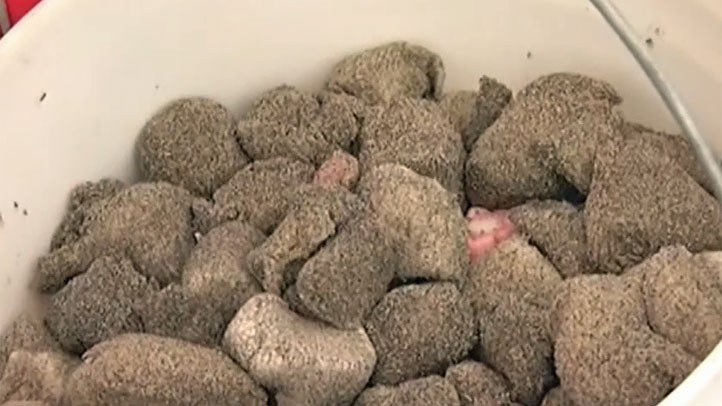 109 lbs trash
Oceanside Harbor
54 volunteers
1,379 cigarette butts
59 plastic bags
329 styrofoam pieces
72 lbs trash
38 lbs recycling
Published at 2:53 PM PDT on Jul 5, 2013 | Updated at 3:07 PM PDT on Jul 5, 2013