Hours after San Diego City Councilman Carl DeMaio conceded in the election of San Diego's next mayor, Mayor-elect Bob Filner gave the first look at his administration during a post-election news conference held at a University Heights park.
Speaking in front of a playground at Trolley Barn Park, Filner stood with his fiancee Bronwyn Ingram and promised a "very open" administration that will come in with respect, understanding but will not be status-quo.
"I purposely had this news conference not in city hall to show we are going to respect and concentrate on neighborhoods," he explained.
Filner thanked DeMaio for his respectful concession speech early Wednesday that marked the end of a grueling 17-month-long race and a record $13 million spent on attacks and campaigning.
"It's time for all sides to come together and put the best interest of San Diego first," DeMaio said.
Filner echoed those sentiments saying, "I need people who are experts in everything we do in our city and I will call on those who did support me and oppose me."
DeMaio dropped from a lead at about midnight, dropping 1 percent as more precincts reported. Then, at about 12:40 a.m., Filner jumped to lead the race with just over a 2,000 votes.
Filner has 51 percent and DeMaio had 49 percent of votes with 100 percent of precincts reporting. There are still more than 475,000 absentee and provisional ballots that need to be counted. The San Diego County Registrar said the final tally will be Thursday by 5 p.m.
With 10,000-vote lead, Filner said he can confidently look forward to his inauguration and term as mayor.
"I'm going to involve everybody," Filner said in NBC 7's newsroom Wednesday morning. "And I think the Republican members of the council are going to be surprised at how inclusive that we do this administration."
Mayor Jerry Sanders congratulated Filner on his victory shortly after DeMaio conceded.
"He's a long-time San Diegan and my hope is that he will continue to move our city forward with the kinds of reforms that have fueled San Diego's turn-around," said Sanders in a statement. "I wish him all the best and look forward to working with him to ensure a smooth transition."
DeMaio, a fiscal-conservative Republican, poured millions of his own fortune into his campaign, selling off two successful companies try and defeat the odds in a city accustomed to electing moderate mayors.
Filner says he will be an activist for San Diego communities, particularly those that have been neglected over the years.
He also promised an end to what he called "the vilification of our public employees and the unions that support them. That is going to stop."
Get complete coverage in our special section: Decision 2012
At about 11:15 p.m. Tuesday, DeMaio addressed supporters, even though results at that time were still uncertain. He thanked supporters and gave special mention to his sister and his partner, Johnathan Hale. DeMaio would have been the first openly gay and Republican mayor of a major city if elected.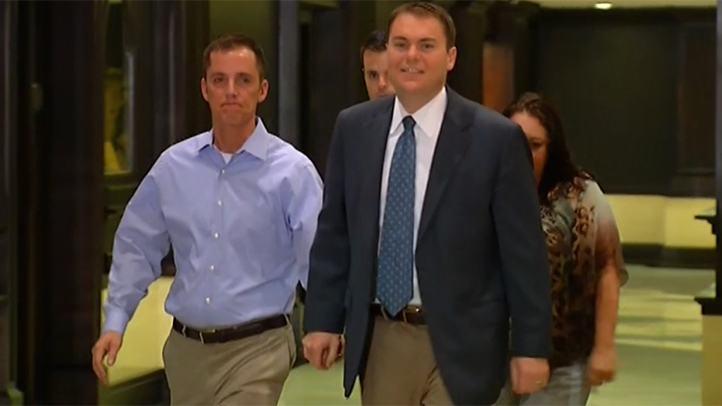 "You know we've been out and proud this whole time, and that hasn't really mattered," DeMaio said, looking at Hale. "And that's what I love about San Diego."
He also stressed the importance of abandoning political labels and working together as a city.
"When you strip away all the labels too often used in politics," he said to supporters. "One label remains, one is strong – we are all San Diegans."
Shortly after, Filner also appeared before his supporters. He asked for positive thoughts, but said he still felt confident that the later votes would come in to his favor.
"If you pray, we need your prayers," Filner said. "Whether it's Allah or God or whoever, we need your help tonight."
He also harkened back to the promise made throughout his campaign that he would shift the power in City Hall to those who have been underrepresented in past administrations.
"The same people who are at the seat of power are at this table," Filner said in the speech, referring to the current City Hall dynamics. "And I said to these people 'I'm just going to move you way over. And we're going to have new people at the table. And they're gonna look a little different. They're the people at the neighborhoods that have been neglected. The working people of this city. The people who care about the environment, the people who care about education. They have not been at the table."
The record-high amount of money spent throughout both campaigns, combined with 29 public debates from June to November, amplified their attacks on one another.
Asked if he had any regrets about the campaign, Filner said earlier Tuesday, "The tone was pretty negative, I regret that. I think the people of San Diego deserve a positive vision."
On the other hand, DeMaio said he does not regret the tone of the race, but that "Filner ran a spirited campaign."
Though the race is non-partisan, the political divide has been the driving factor in the race. And with a 40-percent Democratic electorate in San Diego, it appeared the city's make-up would end up determining the outcome. By early Wednesday morning, Filner took the lead with late Democratic votes.
DeMaio spent the time since the primaries reaching out to moderate voters. At one debate, he described himself as a "pro-choice environmentalist who takes on the downtown establishment time and time again."
But his fiscal reforms and background as a conservative politician have stuck with those he will work with on the city council. Many have gone on to endorse Filner – who isn't necessarily known for his warmth.
"The one thing DeMaio and Filner do have in common is that they have a competitive, abrasive personality," said Political Science Professor Carl Luna.
This has been the major attack on Filner in the weeks leading up to the election. His former opponent in the race, District Attorney Bonnie Dumanis, said he is erratic, combative and disrespectful toward women.
In an interview with NBC 7, Filner said Dumanis' criticism was unwarranted. He said his behavior is passionate, not erratic, but that one of his weakest qualities is that very few people understand his sense of humor.
"I plead guilty to being passionate," he said. "Leaders have to be passionate, and that's how you get things done."

Aside from their personalities, the two presented platform goals that promised to lead San Diego in one of two very different directions.
In terms of jobs, Filner plans to expand port operations, which he estimates will create 50,000 jobs in the city by 2020.
Both candidates committed to repairing San Diego's $2.1 billion pension fund shortfall, but the repair work has been a long time coming. Years of shortchanging contributions to the pension fund spawned the city's nickname, "Enron-by-the-Sea" in 2004.
In June 2011, DeMaio introduced what would become Prop. B, the pension reform initiative he helped craft. The measure, approved by voters in June, transitions city employees except for police officers from the current pension system to a 401(k) type of retirement contribution.
The reform vows to save at least $1.2 billion through 2014, but that savings depends on a 5-year pay freeze for new city employees.
Filner was initially opposed to Prop. B, but when voters approved it, he reluctantly climbed on board.
Throughout the 17 months of campaigning, there is hardly an issue that went untouched. The two explained their positions on community plans, keeping San Diego an attractive place for public safety jobs, how the candidates might fund a new stadium, and potential state challenges to the city's pension reform plan.

"We can make San Diego work again," DeMaio said in his concession speech. "It's up to all of us to come together and look at good ideas and we're not going to place a label on them, we're not going to judge them based on who they come from."
Ed. Note: An earlier version of this article stated DeMaio would have been the first openly gay mayor of a major city. He would be the first openly gay Republican mayor, in fact.

Browse our Decision 2012 page for all issues related to this election.