Investigators resumed the search in a landfill for two children believed to be the victims of a man arrested after a standoff on Interstate 5 last week.
Tuesday's search efforts at the Olinda Alpha Landfill in Brea began at 9 a.m., as two cadaver dogs from the Ventura County Sheriff's Department scoured the area.
Investigators are looking for a 2-year-old boy and a 4-month-old boy. The body of the boys' mother -- 31-year-old Arlet Hernandez Contreras -- was found April 25 along a freeway. She was identified May 4.
Her ex-boyfriend and father of the children, Shazer Fernando Limas, was arrested Thursday following a pursuit with police on Interstate 5 near the San Clemente checkpoint.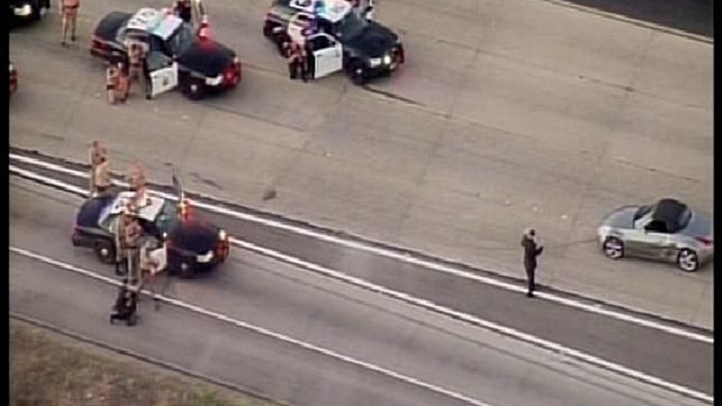 The 31-year-old was charged with three counts of special circumstances murder, meaning he is eligible for the death penalty if convicted.
Limas may have allegedly disposed of the bodies in a trash dumpster, the contents of which were taken to the Brea landfill, police said.
Authorities are using a bulldozer to dig two to three feet below the surface to let the dogs search the area, Orange Police Department Sgt. Adams said. The dogs search between 20 to 40 feet at a time.
The search is expected to be completed Tuesday, Adams said.
Limas made his first court appearance Monday for an arraignment, which was postponed until May 23.
Prosecutors claim that child support payments may have been at the heart of the crime. Court records show that Limas was to begin paying Contreras $300 a month.
Follow NBCLA for the latest LA news, events and entertainment:iPhone/iPad App | Facebook| Twitter | Google+ | Instagram | RSS | Text Alerts | Email Alerts
Published at 3:13 PM PDT on May 8, 2012 | Updated at 3:14 PM PDT on May 8, 2012